Kansas City, Mo. — Tamba Hali, who missed the Chiefs' first two preseason games because of sore ribs, sported a stunned smile after his first NFL game.
Kansas City's first-round draft pick had no idea the tackle he'd eluded Saturday to sack St. Louis quarterback Marc Bulger was Todd Stuesse, a 13-year NFL veteran.
"It feels good," Hali said. "He's been there, done that, knows the game."
Hali's tackle caused Bulger to fumble at the Rams 24 for a seven-yard loss in the second quarter. James Reed's recovery led to a field goal that put the Chiefs up 16-3 going into halftime.
The Chiefs' 16-12 win, which snapped an eight-game preseason losing streak, was their first game at Arrowhead under new coach Herm Edwards.
"I just wanted to go out there and have fun, and that's what coach wanted us to do," Hali said. "Getting to the quarterback, I understand that's why you come to the league as a defensive end, to get to the quarterback and stop the run."
Hali, whose defensive line coach at Penn State was Larry Johnson Sr., father of the Chiefs' running back, had a team-high 11 sacks his senior year. He was the 20th overall pick in this year's draft.
Edwards has made defense a top priority, and Kansas City experienced defensive successes Saturday against the Rams. But those were diluted by 10 penalties for 80 lost yards. Jimmy Wilkerson sacked Bulger for a nine-yard loss. Rookie safety Bernard Pollard had four tackles, an interception and a forced fumble, but he also had a 15-yard penalty for unnecessary roughness.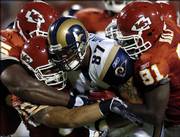 "We can say they're young players but it's unacceptable because they're professional football players," Edwards said. "You can't keep teams in the game by making dumb fouls."
The Rams (1-2) had another frustrating night on offense. They were without injured wide receivers Torry Holt and Isaac Bruce and the first unit failed to score for the third game in a row.
"Not a big deal right now, because, we do that in the opener or the first couple games it's going to be a bigger issue," said coach Scott Linehan. "I'm not hung up on it. My biggest thing is, I want us to go back and make sure we're taking care of the ball and eliminate the penalites, and all that other stuff will come."
It was a sloppy win, Edwards said, and Kansas City was lucky the Rams turned the ball over late in the fourth quarter. Pollard's forced fumble came with 1:32 left in the game, after Gus Frerotte completed a 26-yard pass to Brandon Middleton that put St. Louis at the Chiefs' 47-yard line.
"We were very lucky in fact that the defense played decent," Edwards said. "But fouls and our inability to make first downs on offense kept St. Louis in the game. You can't do that if you're going to play good football in the second half."
Hali was pleased with his performance, but thought he could have been more productive. He agreed with Edwards' assessment that the team still hasn't "arrived."
"It was fast. The game was played very fast," Hali said. "Guys are good. They get their hands on you. There's different types of schemes out there so you've got to read and get off a lot quicker."
The Chiefs have a short week before hosting New Orleans Thursday night in their final game of the preseason.
Copyright 2018 The Associated Press. All rights reserved. This material may not be published, broadcast, rewritten or redistributed. We strive to uphold our values for every story published.