Jocelyn Daley just couldn't resist taking her friend back in time.
Daley grew up around soda fountains in Philadelphia, but her friend, Sherry Lanham, had never been at such a place.
So in the middle of a recent weekday, Lanham is downing her first Coke float at the Corner Pharmacy in Leavenworth. And Daley is having a root beer and some fond memories.
"It's a blast from the past," Daley says, seated at the long mahogany bar with swivel chairs, marble countertop and the smell of sweet syrups and burgers wafting in the air. "This is the scene of so many American movies. If you pass by a drive-in movie theater or a soda fountain, you have to stop and enjoy them."
Depending on who you ask, old-fashioned soda fountains - the kind that serve cherry phosphates, chocolate malts and Green Rivers - are either a dying breed or just the sort of nostalgic niche that will stick around forever.
According to the Kansas Explorers Club, there are 48 soda fountains still operating in the state, including 17 within a 90-minute drive or so from Lawrence (though Lawrence itself doesn't have one).
Soda fountain slideshow
Hear Ron Booth, owner of the Corner Pharmacy in Leavenworth, talk about soda fountains.See audio slideshow »
"This is Main Street America," says Ron Booth, who owns the Corner Pharmacy. "It's Norman Rockwell."
'Melting pot'
Booth's pharmacy has been operating in the same location since 1871.
The soda fountain has been in place since the 1960s but got a major overhaul in 1988.
"As everyone was taking out their fountains, I was putting one in," he says. "Nostalgia is getting big right now."
A steady stream of customers come in. Some are regulars who have eaten there for decades - the $1.49 hamburgers and $1.79 tuna salad sandwich are easy on the pocketbook. Others are temporarily in Leavenworth because of the Army operations and want to get a feel for small-town America. And still others read about the locale in guidebooks and want to check it out.
No matter what, Booth says, they're in for a good conversation.
"There's this camaraderie," he says. "It's the melting pot of America. You might have a guy in an Armani suit next to a guy who doesn't have two dimes to rub together."
While some soda fountains have chosen to turn off their spigots in favor of filling drinks with 7-Up, Booth says his operation tries to stick with the original way of doing things.
More about soda fountains
"In our case, it's not doing it because it's in or the hip thing to do," he says. "It's just what we do."
Grace Freeman, who spent her early childhood in Leavenworth, says it's a formula that brings her back to the Corner Pharmacy whenever she visits family there.
"It doesn't matter where I go or what I do, I like the continuity of it," says Freeman, who now lives in Vallejo, Calif., and was in for a treat last week. "I know the same place is here."
Soda traveler
If there is an expert on Kansas soda fountains, it's Vera Mann of Hutchinson.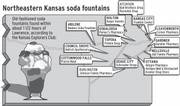 She's 77, a retired teacher and claims to have been to all of the operating soda fountains in the state.
She started the quest in summer 2004 and recently completed the tour. Despite her diabetes, she ordered a Green River soda - it's an old-fashioned, syrup-flavored lime drink - at each place. But not all of the fountains had Green Rivers, or even limeades.
"It was interesting," she says. "Some of the limeades were real good, and others weren't too whoopee."
Her best Green River: The Heritage Corner Cafe in Bird City, near the Kansas-Colorado border.
"Boy, she sure made a good Green River soda," Mann says. "It was scrumptious. The first one (Fraese Drug in Hutchinson), the poor little girl didn't know how to make a limeade, period."
Mann says her favorite soda fountain might have been the Soda Shoppe & Deli in Hays, which includes both the fountain and a Hallmark store. It has a black-and-white tile floor and wrought-iron tables.
Judging by her experience, Mann says most soda fountains remain a community gathering place.
"It gives a place for local people to come down and drink coffee and visit," she says. "Most places we went, there would be four or five men sitting around drinking coffee, this sort of thing. A lot of them, too, had lunch counters, so people would come in over the noon hour. It was just kind of a gathering place - only instead of teenagers it's adults now. It was senior citizens doing their thing."
Soda downfall
In that sense, the purpose of soda fountains hasn't changed much over the years.
Anne Funderburg, a New Orleans resident who wrote "Sundae Best: A History of Soda Fountains," says soda fountains were an important social institution from the Victorian Era past World War II.
"When sociologists talk about public space, it was a very important public space," she says. "It was a community center. People went there to enjoy sinfully delicious treats, but they also went there to be connected to the neighborhood and catch up on the gossip and news.
"I sometimes say they were the second most important community center, the first being the church."
But the car, shopping malls and - in the South - desegregation led to the demise of many soda fountains, Funderburg says.
The car meant people could go anywhere for a treat or dinner. Shopping malls meant new public space, and the soda fountains didn't move to the malls.
(Indeed, 23 of the 48 soda fountains in Kansas are still located on their town's "Main Street," and others are on the main drag that has a different name.)
And in some areas, desegregation meant soda fountain owners would rather close their shops than deal with the perceived trouble of blacks and whites sharing treats together.
Today, Funderburg says, coffee shops have taken the place of soda fountains as important public space.
"I think there's an analogy between Starbucks and other coffee shops, and the soda fountains," she says. "After the soda fountain disappeared, and before coffee shops became so popular, there was a void."
Closer to home
There's never been that void in Ottawa.
The city of around 13,000 has three soda fountains - more than any other town in Kansas, according to the Explorers Club. There are two at drugstores - at Allegre Pharmacy and Kramer Drug Store - and one at the Antique Mall and Restaurant.
Jim Grogan, who has lived in Ottawa more than 50 years, remembers a time when there were as many as seven soda fountains along Main Street. He grew up in Clay Center and has fond memories of a soda fountain there.
"The greatest thing," he says, "is you could get frosty mugs of cold root beer for a dime - as many as you could drink. Of course, you couldn't get past about three."
Grogan is part of a group of about 10 men who get together every weekday afternoon at 3 to drink coffee at Kramer Drug Store and catch up on the news of the day.
Linda Goyer, who tends the soda fountain there, says she gets more orders for coffee and soft drinks than she does traditional soda fountain treats.
"Once in a great while," she says, "I'll get an order for something like that."
Goyer works hard to fill orders under a sign that says "Relax at Our Fountain."
On this particular day, 94-year-old Lee Shelden - who worked at this same soda fountain during the 1930s - has chosen to give Goyer a hard time.
He's talked to his buddies so much his coffee has gone untouched, and cold.
"Can I just go back there myself and warm it up?" Shelden asks Goyer with a smile.
"Oh, no," she replies with pride for her soda fountain. "You're not touching my counter."
Copyright 2018 The Lawrence Journal-World. All rights reserved. This material may not be published, broadcast, rewritten or redistributed. We strive to uphold our values for every story published.