Darrell and Carol Falen have warm memories of their wedding day.
It was June 23, 1956, at Winfield's First Methodist Church.
"It must have been 103 degrees in the church," Carol recalled. "There was no air conditioning, most of the women wore hats, and my wedding dress had long sleeves."
Darrell was in the Navy pilot training program in Pensacola, Fla., and had a weekend pass to get married. After the wedding reception, the couple spent their wedding night in Tulsa, Okla., and made it to Pensacola in time for Darrell to report for duty Monday.
The Falens first met when Darrell was a student at Southwestern College in Winfield. Carol's brother invited Darrell, a Stafford native, to a home-cooked meal. That meal turned into several meals.
"As Carol grew up, I became more attentive," Darrell said, smiling.
They started dating in 1954, the summer before Carol went to school at Oklahoma A&M; University.
Darrell frequently made the 170-mile drive between Stillwater, Okla., and Winfield.
"I think that's when things got serious," Carol said.
In 1959, following their Navy experience, the Falens moved to Lawrence, where Darrell had been hired to teach math and coach at Central Junior High School.
"It was just before West (Junior High School) opened, and Central was really crowded ... large classes where it seemed like you were pinned against the blackboards," Darrell said.
Audio Slideshow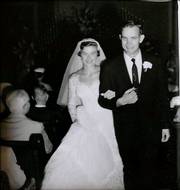 Couples - Falen 50th anniversary
A year later, he moved to West, and four years later, he went to Lawrence High School, where he taught math and served as assistant football and basketball coach. He coached with the likes of Al Woolard, Max Rife, Jerry Rogers and Dick Edmondson.
Were high school athletics different in the '60s?
"Everyone wanted to play," Darrell recalled. "There was no water at practice, which was the common theory in practice at the time ... only a salt tablet ... at games when someone would get hurt, you could pull on it, punch on it, and if it worked, send them back in the game," Darrell recalled, rolling his eyes. "There were no excuses that anybody would buy anyway ... it was just the way it was."
It was indeed a different ball game.
When Darrell became head basketball coach, replacing Max Rife, it became yet another game. It was in the late '60s and early '70s during the unrest in Lawrence.
"It was a time when it wasn't popular to be an athlete or popular to be in a group at all ... kids would make fun of other students when they joined the choir," Darrell said.
He went on to be LHS athletic director and assistant principal for 18 years.
Meanwhile, after raising the new Falens, a son and a daughter, Carol got her teaching degree at Kansas University and taught home economics at West for 26 years. She retired in 1995, a year after Darrell retired from LHS.
"We made a deal," Darrell said, "I said I'd do the cooking and housekeeping for an entire year if she'd teach for one more year."
She did and he did.
He said, "I'd get it all done by 11 o'clock and go play golf at Alvamar," something both enjoyed for years.
So, to celebrate their 50th wedding anniversary, they treated themselves, their son Steve, 48, and daughter Diana, 45, and their families to a week in Maui, Hawaii.
Both agree that being married 50 years has gone "terribly fast."
The Falens - she's 70 and he's 72 - recently downsized, moving from Indian Hills and their three-bedroom, full basement home of many years to a two-bedroom, one-level home on Bob Billings Parkway near Corpus Christi Catholic Church.
"It's much easier to care for," Carol said, "but we still manage to misplace our keys and glasses."
Copyright 2018 The Lawrence Journal-World. All rights reserved. This material may not be published, broadcast, rewritten or redistributed. We strive to uphold our values for every story published.