Wood Dale, Ill. — Cherilyn Anderson is a $45-per-month, small-town council member in southwestern Pennsylvania with no appetite for the partisanship of national politics. She won't even set aside $1 in her tax returns to help pay for presidential campaigns.
But when she won $400 at the slots in Wheeling, W.Va., this year, she made her first-ever political contribution, to Tammy Duckworth, a wounded Iraq war veteran and Democratic congressional candidate in the Chicago suburbs.
"What happens in the 6th District of Illinois impacts the 4th District of Pennsylvania," Anderson said.
That sentiment is helping Democrats draw money from a national donor pool that is keeping them financially competitive in some of the most closely contested races for the House.
It also illustrates the broad dynamics of this year's congressional elections as Democrats seek to regain control by exploiting national themes such as the war in Iraq, rising gas prices and wage inequities.
The ability of Democrats to raise individual contributions from outside their state is especially evident in close, open seat races, where Democrats are seeking to win in formerly Republican-held districts. That fundraising outreach has helped make Democrats in these contests among the best financed candidates in this election, second only to Republican incumbents.
Data compiled by watchdog organizations and a review of Federal Election Commission records by The Associated Press show that in the most competitive open seat races in Illinois, Colorado, Iowa and Arizona, Democrats raised more out-of-state money than Republicans by greater than a 4-to-1 margin.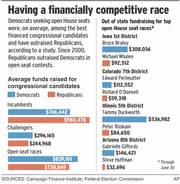 Such an edge is a blessing and a curse.
In tight contests, any fundraising advantage is welcome. But Republicans are using the Democrats' bounty against them, labeling them out-of-touch with their districts and incapable of finding financial support in their own backyard.
In no race is the discrepancy as evident - and as much of an issue - as in Illinois' 6th Congressional District, where venerable Republican Rep. Henry Hyde is retiring after 32 years.
Duckworth, a National Guard major who lost both legs in a grenade attack on her helicopter outside Baghdad, has one of the highest national profiles among congressional candidates.
Party officials embraced her as a heroic symbol of the war's toll on the United States and put their money operations at her disposal. One of her biggest fundraising successes was a California tour in May arranged by House Democratic leader Nancy Pelosi.
Duckworth's Republican opponent is Peter Roskam, a state senator and former congressional aide. Roskam, a member of the GOP leadership in the Illinois Senate, has raised most of his money locally, with help from visitors such as Laura Bush, Vice President Dick Cheney and the president's chief political adviser, Karl Rove.
"The national handling and the national attention is ultimately an albatross around my opponent's campaign," Roskam said. "What she will do is she'll get on a plane, go to San Francisco, and Nancy Pelosi will have an event. The difference is I have national folks coming into my district."
Duckworth said she has many individual contributors in her district. "But they're all $5, $10, $50 contributions and that's a lot of work," she said. "I've traveled across the country to raise funds. I haven't had a Laura Bush, or Dick Cheney or Karl Rove come in like he has."
Copyright 2018 The Associated Press. All rights reserved. This material may not be published, broadcast, rewritten or redistributed. We strive to uphold our values for every story published.