It's 22 feet shorter than a proposed high-rise development and may be a better fit for the neighborhood at 12th and Indiana streets.
That's the hope of Jeff Morrow, owner of the Yello Sub building there.
"We want it as low as we can," Morrow said. "Hopefully, this thing might work."
Saturday morning at an Oread Neighborhood Assn. meeting, he presented a model of a five-story, 58-foot-tall building - with only three stories visible from the street - in the Prairie Design-style to house commercial property and 16 apartment units.
The meeting was tense at times as about 20 neighbors also offered opinions about the original 80-foot-tall high-rise proposal meant to house 15 mostly high-end condominium units and commercial space.
Activity at the corner near the Kansas University campus has gained attention in recent weeks. Manhattan developer and attorney Robert Pottroff headed a group and bought buildings there, including the popular just-off-campus bar The Crossing. The group has proposed demolishing them and a house at 1142 Ind. to build the new structure.
City staffers said this month that the development would encroach upon the nearby historically designated Hancock district, between Oread Avenue and Mississippi Street, and the Snow House, 706 W. 12th St.
A new look
Morrow has worked with Pottroff and other project investors. He said his plan for a shorter building mitigated concerns by adding landscaping, a retaining wall and a short stone fence around the property and wider sidewalks.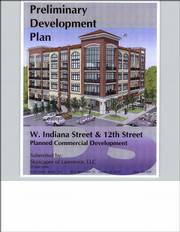 Parking would be available underground for 20 vehicles, and a lot with 20 more spaces would take up half of the first floor. The other half would house commercial space.
Eleven apartment units would be divided between the second and third floors, and the top two floors would be narrower to create space for balconies and overhangs to comply with building regulations.
The fourth floor would feature three apartment units and two on the top floor. Morrow's plan also calls for a public and private deck on the roof made from the Cyprus floor of The Crossing.
The shorter building design also may not generate as much cash flow because of less commercial space and fewer high-rise condos compared with the first design, Morrow said.
He also revealed his intention to save the college bar, but some neighbors voiced concern at increasing open space on the ground level on the south side of the block. They said it could increase noise levels and intimidate some pedestrians to walk on the sidewalk through the area.
Architect Brian Foxworthy, of incite Design Studio in Lenexa, said Saturday morning that the investors had mainly reached a consensus for a combination restaurant that serves alcohol in the building rather than a bar. Morrow said he hoped to see a merger of Yello Sub and The Crossing.
"I think the whole community would like to see that. I'd love to eat there," Morrow said.
Concerned neighbors
Saturday's meeting also featured some animated exchanges as several neighbors called the 80-foot-tall building proposal and its New Urbanism-style design out of character for the neighborhood.
"I didn't sense any positive feedback today. I was somewhat disappointed," Morrow said after the meeting.
"We want their input. We really want that. We got a lot of negative feedback," Foxworthy said.
But individually, some neighbors said they were more comfortable with most of Morrow's design than the 80-foot-tall development.
"I'm very pleased that Jeff is doing this, and I know that he's put some real creative thought into coming up with a solution that will be more neighborhood-friendly," said Carol von Tersch.
James Dunn, president of the neighborhood association, said he would have concerns about maintenance of landscaping and the courtyard in the area, but he called the meeting a good dialogue on improving the corner.
'There's hope'
Morrow said Saturday evening that he met with the investment group, Skyscapes of Lawrence LLC, during the day and that many of them supported his design after they sensed positive feedback from neighbors in individual conversations.
Place
624 W. 12th St., Lawrence
-->
-->
"They feel like there's hope to do business in Lawrence, Kansas," he said.
He predicted that the group would submit a proposal to the city by Sept. 6 that closely follows his 52-foot building design. The plan involves demolishing the home at 1142 Ind., which Pottroff owns. But because the home is in the environs of the historic district, the Historic Resources Commission and Planning Commission will likely not approve the plan.
The City Commission could overrule that under special circumstances, he said. The historic regulations are doing their job, Morrow said.
"It has forced development to a level of sensitivity that's important to the community, and that's a good thing," he said.
For now, The Crossing and Yello Sub still have leases there.
Copyright 2018 The Lawrence Journal-World. All rights reserved. This material may not be published, broadcast, rewritten or redistributed. We strive to uphold our values for every story published.