There always seems to be a need for more usable space in a house, like room for a large dining table. More than 200 years ago, furniture designers solved the problem of too little space by creating a table that could be made larger if needed. Some designers made a "butterfly" or "drop-leaf" extension at the end of the table. It's an extra leaf that's held up by a leg that swings out underneath it. Sometimes two small tables with drop leaves were moved together to make a large table. By the 19th century, many tables could be pulled apart so that loose leaves could be inserted on a track under the tabletop. Sometimes a complicated mechanism separated the table halves and held leaves. About 1930, tables were made that could be pulled apart so a leaf stored below would pop into place as part of the dining surface. All of these ideas are still used today on tables called "extension" or "extending" tables.
Q: I have a 6-inch-high "Vapo-Cresolene" lamp passed down from my in-laws. I have the original box, too. Printed on the front of the box are patent dates going from 1885 to 1901, and inside the top cover there are detailed directions for using the lamp. The original price for the lamp was $1.50. What is my lamp and box worth?
A: Your lamp is a medical antique. It was originally sold by the Vapo-Cresolene Co. of New York City from the 1880s through the early 1900s. A fluid marketed as Cresolene (an acid made from petroleum and coal tar) was poured into the upper dish. When the lamp was lit, a vapor was released that supposedly killed germs causing whooping cough, croup and diphtheria. These lamps are not rare. They sell for prices ranging from $10 to $200, depending on condition. An original box, in excellent condition, increases the lamp's value, but by only a small amount.
Q: My grandmother gave me two 5-inch bisque dolls more than 60 years ago. I can't find any marks on them. Each one has molded hair with a molded ribbon headband and came with a small stand. My grandmother dressed the dolls in outfits she made from 3-inch-wide ribbon. The dolls are dirty, but I'm afraid to wash them. Can I?
A: You can safely wash your dolls. Remove their dresses first. Use a mild liquid soap and water. Clean the crevices with a soft toothbrush.
Q: What is the age and value of my Royal Staffordshire soup tureen? The pattern name is Iris. The crown mark on the bottom includes the word "Burslem."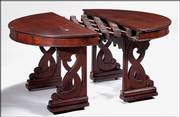 A: Royal Staffordshire Pottery was the name of the pottery works operated by Arthur J. Wilkinson Ltd. of Burslem, England, from 1885 into the late 20th century. Wilkinson used the trade name Royal Staffordshire. There are many Royal Staffordshire dinnerware patterns, including several different colors of the Iris pattern. Iris was produced from about 1890 to 1920. Depending upon the condition of your tureen and the color of the pattern, it could sell for $300 to $1,500.
Q: I found an old 1950s Adlai Stevenson political button. When you move it, the image changes from a photo of Stevenson's face to the phrase "All the Way With Adlai." The button is black and white and 2 1/2 inches in diameter. Could you tell me something about it? A friend has offered to buy it.
A: Your Stevenson button is known as a "flicker." Look on the back of the button for the word "Vari-Vue." Following World War II, a company by that name used a new technology called "lenticular imaging" to create what appear to be animated images for greeting cards, postcards, record album covers, Cracker Jack toys, political buttons and more. The surface of your button is made of dozens of cylindrical plastic lenses in parallel lines. The images you see on the bottom are below the layer of plastic lenses, so if you move the button the image changes as you view it from different angles. We have seen your flicker button for sale at prices ranging from $10 to $25.
Q: My wife and I have a collection of glass "hen-on-nest" covered dishes. We got our first one from my mother and know it has been in our family since the 1930s. Then we bought others in varying shades of transparent glass. Our concern is how to spot a reproduction. We're afraid to add any more to our collection.
A: Unfortunately, new hen-on-nest glass dishes have been imported from Asia since just after World War II. Some of them look a lot like 19th-century pressed-glass originals. In addition, some 20th-century American glassmakers have reproduced 19th-century originals. Many of the dishes, old or new, are not marked. Study examples of dishes you know are old so you can become a knowledgeable collector. Learn the names of makers, when they were in business and what details to look for. Some new dishes are in colors never used originally. Do research before you buy.
Current prices
Current prices are recorded from antiques shows, flea markets, sales and auctions throughout the United States. Prices vary in different locations because of local economic conditions.
¢ Taco Bell talking Chihuahua dog advertising toy, 1990s, 6 inches, $15.
¢ Ironstone toothbrush holder, cobalt thistle on front, flower on back, marked Maddock's Lamberton, 1904, 5 inches, $35.
¢ Women's sleeveless beaded sweater, black wool knit, black sequins, beaded fringe at hem, scoop neck, back zipper, silk lining, Zado of California, 1960s, size small, $50.
¢ Red Wing Pottery hors d'oeuvres server, Bob White pattern, toothpick holes on back, 1950s, 8 1/2 inches, $115.
Fenton Opalescent Cranberry Coin Dot vase, 6 inches, $130.
¢ Hull Pottery Woodland wall pocket, pink, yellow and green, clematis flower in center, 8 x 5 3/4 inches, $155.
¢ Obstetrical forceps, ebony wood handles, metal forceps, marked HG Kern No. 12, Civil War era, 13 inches, $250.
¢ Patchwork quilt, cotton, center sunburst, 25 different colored blocks, c. 1850, 88 x 89 inches, $1,135.
¢ Dagwood Bumstead doll, from "Blondie" comic strip, composition head, large ears, black suit, Knickerbocker, c. 1935, 14 inches, $3,100.
Copyright 2018 The Lawrence Journal-World. All rights reserved. This material may not be published, broadcast, rewritten or redistributed. We strive to uphold our values for every story published.