Photo Gallery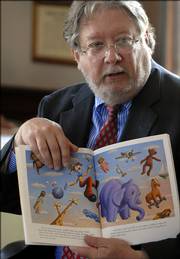 Little Engine That Could
Lawrence's biggest private-sector employer lined up the state's top gentleman to read one of 70,000 books printed for a massive literacy effort intended to establish a world record.
But it couldn't have happened without the attention of 18 first-graders from Baldwin.
The students gathered Thursday morning at the Midland Railway in Baldwin to ride a train, file into the station and hear Judge and "First Gentleman" Gary Sebelius - he's married to Gov. Kathleen Sebelius - lead them in a reading of a book appropriate for the occasion: "The Little Engine That Could."
Pearson Government Solutions organized the local event, one of more than 1,200 such "Read for the Record" events nationwide organized by Pearson, Penguin Books, American Eagle Outfitters and Starbucks to promote literacy among children. Penguin printed 70,000 special editions of the timeless children's tale, with proceeds from sales raising money for Jumpstart, an organization that helps children prepare for kindergarten.
Dave Hakensen, a Pearson spokesman, said Guinness World Records already had agreed to certify Thursday's readings as a world record for the largest number of children reading the same book on a single day.
Copyright 2018 The Lawrence Journal-World. All rights reserved. This material may not be published, broadcast, rewritten or redistributed. We strive to uphold our values for every story published.