When vandals' rocks crashed through the windows of St. James AME Church last weekend, church officials weren't worried.
Those windows - along with much of the rest of the church at 647 Maple St. in North Lawrence - were slated for replacement anyway.
"Kids are going to be kids," the Rev. Greg Jackson said. "They might be throwing rocks at windows. It wouldn't be the first time."
The vandals caused about $500 in damage to the windows. But that's only a fraction of the damage flood waters caused last year. The church has been closed since.
But now, thanks to the financial help of other AME churches and donations from the community, contractors are ready to start the next phases of the old church's reconstruction.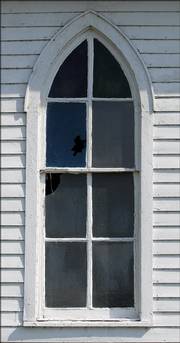 For the past year or so, the 140-year-old church has stood empty after a North Lawrence flood washed water into the basement. At the time, church officials didn't have money to repair the damage, and mold began crawling through the walls.
Since then, parishioners have held services at the Union Pacific Depot and later the Boys and Girls Club, where the group still meets on Sundays.
Jackson said the time away from the church has bothered some longtime members.
"They're trying to be patient," he said. "I told them, 'We're doing it on the Lord's time, not your time.'"
But Jackson said church members may not have to be patient much longer.
This summer, a $10,000 restoration of the badly damaged roof was completed. Now, Jackson said, the congregation hopes to raise at least another $10,000 for the second phase of the rehabilitation, which would include replacing the windows that vandals broke out.
Neighbors and church members have helped with funding, Jackson said, along with support from the regional AME church association.
Jackson also said he's sent a letter to St. James' sister church, St. Luke AME, Ninth and New York streets, in hopes that they would be able to contribute.
More about St. James AME Church
But Napoleon Crews, a member of St. Luke AME Church's Second Century Fund, said many AME churches were struggling with their own financial needs and were unable to help sister churches.
"A lot of AME churches are poor churches," Crews said. "They have to reach out.
"We have a big amount of money we need to raise to restore our own church. It's kind of hard when you're looking at $2 million (in St. Luke restoration expenses) to address any other needs."
St. James AME Church, 647 Maple St.
But Jackson said he hasn't limited his funding search to churches within the AME system.
"Black churches, white churches, Korean churches, whoever can help," he said. "We've sent letters to them as well."
In a third and final phase of restoration, the church will need repairs to the basement and other parts of the church, though Jackson said that work should be less expensive with church members able to do some of the work themselves. He estimated the total remaining cost of fixing the building to be about $15,000
Copyright 2018 The Lawrence Journal-World. All rights reserved. This material may not be published, broadcast, rewritten or redistributed. We strive to uphold our values for every story published.