In his first game-like situation of the high school football season, Mike Santee faced a daunting task.
His mission? Bring down 6-foot-4, 275-pound senior tight end Christian Ballard. Ballard only hauled in two receptions for 10 yards, but Santee, a junior linebacker, had to face up and tackle him on both receptions.
"It's fun, but it's a challenge. Anytime you have to challenge a guy, you can't be scared," Santee said. "You just have to go up there and give it your all."
Santee was successful in bringing down Ballard both times during Free State's Fall Sports Jamboree on Wednesday night. Santee's green team defeated Ballard's white team, 13-6, in the team scrimmage.
Ballard showed his athleticism on both sides of the ball. Aside from his receptions on offense, Ballard, also a defensive lineman, chased down Ryan Murphy, the speedy senior quarterback. Ballard is six inches taller and 100 pounds heavier than Murphy. It didn't matter.
"It's hard. He's probably one of the fastest quarterbacks I'll ever go against," Ballard said. "I really need to keep the containment; that's one thing we need to work on and what coach preaches every day. But it was good to go up against one of the state's best quarterbacks."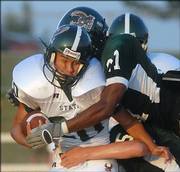 Murphy finished the night 2-of-7 passing, with a 10-yard touchdown run for the green team.
FSHS didn't show much offensively. The green team ran 23 total plays - 16 runs and seven passes. The white team ran 32 plays - 18 runs and 14 passes.
Coach Bob Lisher pulled aside his seniors at the end of the scrimmage to discuss the team's goals.
"We were just talking about what it takes to become a high-quality football team and expounding on the fact of what they need to do to make sure they're good leaders," Lisher said. "It's just something I felt they needed to hear."
Lisher said the Firebird intensity picked up in the second half. There were several instances of team members jumping around with intensity after important second-half plays. But Lisher seemed to have a grocery list for his team after the scrimmage.
"Obviously, we have to block better and tackle better," Lisher said. "The snaps from center are just inexcusable, and we have to get that fixed, and our quarterbacks fumbling the exchange under center : those things just can't happen because you don't have a play when you're chasing the ball down."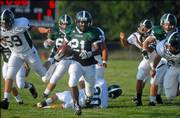 On four occasions, the white team snapped the ball too high for junior quarterback Craig Rosenstengle or fumbled the ball under center.
Despite these mishaps, senior running back Brian Murphy scored the first touchdown of the night for the green team in emphatic fashion. As he came around right tackle, Murphy saw an inch of daylight. He exploded past the secondary and cut back inside to the left, after making one cornerback completely miss. The corner flew to Murphy's right and tackled air. The highlight-reel run resulted in a 30-yard touchdown.
"It's more instinct than anything," Brian Murphy said. "It's just playing backyard football. If you see somebody overcommit one way, you just cut the other way to make them miss and then run for the touchdown."
Brian Murphy finished the night with six carries for about 50 yards. The FSHS regular-season opener is eight days away, on the road. But you don't have to tell Brian Murphy.
"It felt really good to get a touchdown to start off the season, and hopefully that'll come in next week against Leavenworth," he said.
Copyright 2018 The Lawrence Journal-World. All rights reserved. This material may not be published, broadcast, rewritten or redistributed. We strive to uphold our values for every story published.