Sapporo, Japan — As his team left the locker room at halftime trailing Italy by nine points, captain Dwyane Wade broke into song.
"I was walking out, and everybody was quiet, and I just started singing something that came to mind," Wade said Wednesday night. "I just came off the NBA Finals, where my team had been down a lot (two games to none). I don't ever worry about being down. And I don't want my teammates to worry about it, either."
After the game, Wade couldn't remember what he sang. But it proved to be the right tune, with the Americans surging back to beat Italy, 94-85, in the FIBA world championships.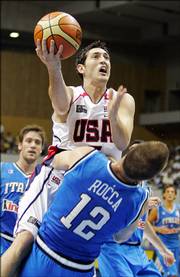 The U.S. rallied behind Carmelo Anthony, whose 35 points were the most by an American in the world championships. Kenny Anderson set the previous record of 34 in 1990.
Chicago Bulls guard and Kansas University product Kirk Hinrich scored four points.
Anthony scored 29 of his points in 19 electrifying minutes in the second half.
"I think I got it going after a tip-in from the free-throw line," he said. "I knew once my outside shot was going, it was going to open it up for my inside driving."
Wade said he never had seen Anthony that hot, at least not in person.
"When he's got it going, it's a beautiful thing because you don't know what he's going to do," Wade said. "He got it going at the right time."
Wade scored 26 points, and Elton Brand added 16 as the U.S. clinched Group D. That means the U.S. will avoid Argentina or Spain, two of the tournament's powers, until the final. The Americans will play the fourth-place team in Group C on Sunday.
Copyright 2018 The Associated Press. All rights reserved. This material may not be published, broadcast, rewritten or redistributed. We strive to uphold our values for every story published.