Topeka — Kansas health officials say the state could take a tip from Arkansas on how to reduce childhood obesity.
Last week, Arkansas reported that the number of children at risk of becoming overweight in the state had dropped slightly, reversing an upward trend.
One of the main things Arkansas does that Kansas doesn't is measure the body-mass index of public schoolchildren. BMI is an indicator of whether people carry an appropriate amount of weight for their height.
The Kansas Health Institute, a nonprofit health policy and research organization, is surveying Kansas schools on nutrition and physical activity issues and recently asked school leaders if tracking BMI was something they would be interested in doing, said Kim Kimminau, senior vice president for research and analysis with the institute.
"We asked school administrators, physical education teachers, superintendents, 'What do you think of this idea?'" Kimminau said. "The overwhelming support by our respondents, 84 to 90 percent, agreed this kind of information would be helpful."
Arkansas began measuring BMI in 2004. The percentage of Arkansas schoolchildren overweight or at risk of becoming overweight was 37.5 percent this year, down from 38.1 percent a year earlier. If a child has a higher than normal BMI, the school sends a note home to inform the parents.
BMI is a popular way to gauge whether a person is overweight. It is calculated by dividing a person's weight in kilograms by his or her height in meters.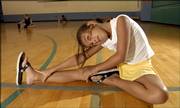 "The runaway train has been stopped in Arkansas," said Arkansas Gov. Mike Huckabee, who has gained fame by losing 110 pounds since 2003 when doctors diagnosed him with diabetes.
The Kansas Health Institute is collecting information statewide on the level of nutrition and availability of physical fitness in public schools. The study goes into, for example, how many vending machines are in schools.
Kimminau said in gathering information from schools, there was a positive feeling that schools, along with parents, want to be part of helping prevent childhood obesity.
"The schools are telling us it really is going to take a village," she said.
The rate of overweight children ages 6 to 11 has doubled in the last 20 years nationwide, according to the Centers for Disease Control and Prevention. The health risks of obesity include a higher rate of heart disease, diabetes, stroke and other problems.
Officials with the Lawrence school district are discussing whether to measure BMI.
"The BMI approach is actually one of the only approaches that measures whether you're making success," said Bruce Passman, deputy superintendent of schools.
Based on the success from Arkansas, Passman said Lawrence school officials probably would consider the measure more seriously.
Patrick Parker, director of pharmacy and intravenous therapy at Lawrence Memorial Hospital, said measuring children's BMI would give parents and health officials a baseline of information. Parker serves on a board that advises the school district on health issues.
"It's not intended to make someone feel bad," Parker said. "It tells you where you are and whether what you have done is actually useful."
Parker said he supported measuring BMI but said parents must approve of it before the district should take it on.
"It's important that the community understand the potential value," he said.
Copyright 2018 The Lawrence Journal-World. All rights reserved. This material may not be published, broadcast, rewritten or redistributed. We strive to uphold our values for every story published.