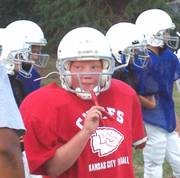 Riley Buller almost didn't make the team. He was good enough. But he almost did not even try out.
The Lawrence Youth Football Hurricanes can thank a few of their other players for convincing Buller to try out and fill the right guard spot.
"He has a couple of friends that came over and: persuaded him, I guess," Buller's father, Dave, said.
Buller said his friends tried to get him to join their team abut three different times.
"First a couple of my friends named Kyle and John came up to my door and asked me to play," Buller said, "but I said no."
They did not give up on him easily, though, and the encouragement continued.
Buller's family took another friend, Tye, to the pool, where more convincing ensued.
"He kept saying, 'Come on, Riley, just one practice,'" Buller said.
Buller still was not going to go, Tye was insistent. He even went so far as to come over and pick Buller up for practice that night.
After initially disagreeing Buller realized he could not put off the inevitable.
"I finally said, 'Okay, fine,'" Buller said.
Buller simply watched that first practice, but it wasn't long before he began to like what he saw.
He soon decided he wanted to be a Hurricane.
"With some persuasion from his friends, he changed his mind," Buller's mother, Julie, said.
Julie said she and her husband were not worried about their son playing football, only that they really wanted it to be his decision.
Whether or not the decision was Buller's alone, he has been practicing with his friends and the rest of the Hurricanes for two weeks. Usually on the defensive line.
did join the team and will play in their first game this Saturday night.
He will join the Hurricanes for their first game coming up this Saturday night.
Having been on the team for those few weeks Buller has fit right into the routine of football. There seems to be little doubt now that all the knocks on the door and conversations at the pool have paid off, for both the Hurricanes and Buller.
"Yeah, I think it's pretty fun," he said.
Copyright 2018 The Lawrence Journal-World. All rights reserved. This material may not be published, broadcast, rewritten or redistributed. We strive to uphold our values for every story published.