Baghdad, Iraq — Protected by snipers on rooftops and edgy police officers searching for concealed weapons and suicide belts, multitudes of chanting Shiite pilgrims walked the streets of this tense and bitterly divided capital Saturday for a religious festival marred by tragedy a year ago.
Most vehicular traffic was banned amid fears of sectarian attacks and mass panic, giving much of the city an abandoned feel on what is normally the first day of the bustling workweek. But the scene was quite different along the approaches to the northern district of Kadhimiya, site of the capital's major Shiite shrine, as pilgrims commemorated the death more than 1,200 years ago of a revered Shiite figure.
Television images Saturday showed tens of thousands of Shiite pilgrims hoisting black-and-green banners and beating their chests in grief for the long-departed imam, Musa Kadhim, as they proceeded toward the resplendent shrine and its golden domes.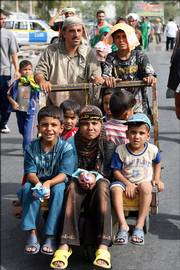 Last year, nearly 1,000 pilgrims - many of them women and children - were reported killed during a stampede sparked by rumors of a suicide bomber in the midst of worshipers headed to the shrine. That remains the single bloodiest day since the U.S.-led invasion toppled Saddam Hussein, a Sunni tribesman who favored the Sunni minority and repressed the Shiites.
Today, Shiites are engaged in a vicious sectarian conflict with Sunnis that has cost thousands of lives and shows no sign of abating. Daily pleas for unity from clergymen and politicians have gone unheeded.
Shiite religious gatherings have been recurring targets during the Iraqi insurgency that began three years ago, while gunmen and bombers of both major sects have hit mosques, preachers and civilians in an ever-escalating chain of atrocities.
U.S. deaths
As of Saturday, at least 2,606 members of the U.S. military have died since the beginning of the Iraq war in March 2003, according to an Associated Press count.
U.S. and Iraqi authorities have swarmed neighborhoods in recent weeks in a large-scale crackdown meant to contain the bloodshed. But July was one of the deadliest months since the invasion, with more than 100 people reported killed each day across the country.
In the stampede last year, many of the victims were trapped in the crush on the Aima Bridge and plunged into the muddy Tigris, where they drowned.
The enhanced security appeared to help; no major attacks on Baghdad worshipers were reported Saturday, although authorities said gunmen shot and killed seven Shiite pilgrims Friday who were walking along a highway in heavily Sunni western Baghdad.
Copyright 2018 The Lawrence Journal-World. All rights reserved. This material may not be published, broadcast, rewritten or redistributed. We strive to uphold our values for every story published.