Cedar Rapids, Iowa — No matter how their trip to the American Legion World Series ultimately turns out, the Lawrence Raiders left little doubt Saturday they're a resilient bunch.
Less than 12 hours after dropping their tournament opener and facing a win-or-go-home scenario, the Raiders responded with an early offensive explosion and found just enough pitching down the stretch to earn a 9-8 victory Saturday against Las Vegas.
The Raiders (38-8) were forced into the losers bracket after a 14-4 setback to Milton, Mass., in their tournament opener Friday. Rainy weather pushed back the start of that game to 10:59 p.m. - one minute before a curfew would have postponed the contest - and it didn't end until after 1:30 a.m. Saturday.
The late finish wasn't the only hurdle for the Raiders. They also needed to quickly forget an opener that saw them play just eight innings after Milton scored six runs in the final frame to win courtesy of the 10-run mercy rule.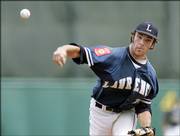 Lawrence wasted little time rinsing away the bad taste, scoring seven times in the bottom of the second against Las Vegas to seize control. The Raiders built their advantage on small ball, using five singles, three walks, a balk and an error.
Continuing to play one base at a time, Lawrence scratched out two insurance runs in the eighth, and they proved huge.
Right-hander Scott Heitshusen - the MVP of the Central Plains Regional - kept Las Vegas largely in check through six innings, but the visitors scored six times in the final three frames, forcing him off the mound with no outs in the top of the ninth.
However, while allowing his lone inherited runner to score, left-hander Daniel Green encountered no further damage in finishing off the victory.
Lorenzo Ricketts finished 3-for-4 to lead the Raiders' 10-hit attack.
Lawrence faces another elimination game at 1 p.m. today against Sumter, S.C. Sumter slipped into the losers bracket following a 6-0 loss to Terre Haute, Ind., on Saturday.
Copyright 2018 The Lawrence Journal-World. All rights reserved. This material may not be published, broadcast, rewritten or redistributed. We strive to uphold our values for every story published.