The Kansas University volleyball team won the annual KU Alumni Scrimmage Saturday night at the Horejsi Family Athletic Center, but may have lost one of its key players in the process.
In the first game, junior middle blocker Natalie Uhart chased after a ball headed toward the sidelines. Uhart laid out to save the ball and landed awkwardly on her knee. Her momentum kept her rolling on the ground, until she bumped into the referee stand. She was holding herself in pain. Uhart had two trainers escort her to the locker room.
Kansas coach Ray Bechard said he was unsure of the severity of the injury.
"I think tomorrow, they'll get the MRI and get the results of that, and hopefully later this weekend, we'll know a little bit more," Bechard said.
Uhart, who transferred to Kansas from Long Beach State, will be counted on to replace departed senior Josi Lima. If Uhart is out for an extended period, Bechard said he was confident in the Jayhawks' depth at middle blocker.
"That was the deepest position we had, and let's hope that Natalie can return," he said. "If that doesn't work out, you have Savannah (Noyes), who was a full-time starter last year, Brittany (Williams), and Paige (Mazour), so we have three or four people who could step in and give us some depth at that spot."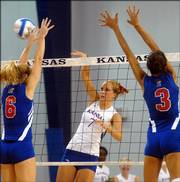 Kansas had no problem defeating the alumni team, 3-0. The alumni kept it close in all games, though. Kansas won 30-26, 30-28, and 30-27. Despite the victory, Bechard said his team still needed fine-tuning before the Aug. 25 season opener against Alabama A&M.;
"We'll be serving a lot in the next four days," Bechard said. "We did some uncharacteristic things serving the ball, but our passing was very good. That was as competitive an alumni group as we've had put together."
One reason for the alumni competitiveness was middle blocker Phil Oberzan. His leaping ability, combined with the power in his shots, produced numerous Alumni points.
When Oberzan leaped to hit shots, his head was considerably above the net. Asked if he could dunk on a 10-foot basketball goal, Oberzan, who is no more than 6 feet tall, said: "With a volleyball." Oberzan, a former KU volleyball manager from 1997-2000, said he had about a 30-inch vertical. Oberzan was the lone male participating in the game Saturday.
Junior opposite hitter/setter Emily Brown led Kansas with 14 kills and 18 service aces. There were two instances when Brown hit the ball so hard that it made two separate Alumni players fall to the floor trying to return her shot.
Brown said despite the Jayhawks bringing in eight new players this season, the team chemistry felt natural on Saturday night.
"I think it's really good for our team, especially the newcomers and the freshmen, to kind of see what Kansas volleyball is all about," Brown said.
Copyright 2018 The Lawrence Journal-World. All rights reserved. This material may not be published, broadcast, rewritten or redistributed. We strive to uphold our values for every story published.