Junction City — Larry Sinks sold his screen-printing business. Brian Stone moved to Milford. And Doug Compton is building the biggest apartment complex he's ever done.
All because the U.S. Army is fortifying its presence at Fort Riley, adding some 8,000 troops and tens of thousands of family members and support staff to a town scrambling to make enough room for them all.
"It's like the wild, wild west out here," said Sinks, who sold Victory Sportswear this summer to focus on building apartments, townhomes and single-family homes in Junction City, which is adjacent to the fort. "It's like a gold rush."
The push to add residences and services in Junction City certainly has grabbed the attention - and dollars - of investors, developers and employees in Lawrence:
¢ Compton, president of First Management Inc., is building a 600-unit apartment complex on 100 acres overlooking the interchange of Interstate 70 and U.S. Highway 77. The $50 million project could add another 600 apartments - at a cost of up to $50 million more - by the end of 2009.
¢ Roger Morningstar and partners in Red Barn Homes and Planet Construction are pumping $24 million into building 100 duplexes and another 50 single-family homes, also at the western edge of Junction City. Water towers from the fort are visible from duplexes in the group's Hilltop Subdivision, where residents already are moving in and dozens of other units are under contract.
Audio Slideshow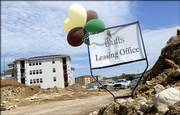 Junction City development
Doug Compton, president of First Management Inc., discusses growth in Junction City.
¢ Sinks, Dave Freeman, Bill Skepnek and Brennan Fagan, partners in Big D Development and Construction, are spending up to $60 million to build 504 apartments and prepare another 538 lots for construction of new homes and duplexes.
Add it up, and the total spending for the three groups surpasses the $131.2 million value set for all construction, renovations, new signs and other developments for which permits were issued last year by the city of Lawrence, a community with more than four times the population of Junction City but a growth rate that has been stagnant in recent years.
'You want to be out there'
"In Junction City, it's a different situation and a different dynamic," said Skepnek, a Lawrence lawyer making his first foray into land development. "In Lawrence, there are people who want it to grow and there are people who don't want it to grow. In Junction City, that's not the case. There's not a significant political split in what's going on out there. :
"If you're in this business, you want to be out there."
Contractors, laborers and support services with Lawrence ties also are making their homes in Junction City, following the money and opportunities.
Lawrence-based Landplan Engineering recently added an office in Junction City to keep up with demand for landscape architecture, site plans and development documents. The folks at All-Star Plumbing are living out of a $45-per-night Budget Host Hotel while they run water lines, hook up toilets and otherwise keep flows going for the hottest construction market anyone can remember.
Anytime an apartment opens up among First Management's 600 rental units in nearby Manhattan, the company keeps it off the market and instead turns it over to an employee. The company already has 26 Lawrence residents working in Junction City at least five days a week, installing retaining walls, building retention ponds and supervising construction of The Bluffs, where the first 58 apartments are scheduled for occupancy next month.
Instead of driving three hours a day along Interstate 70, the employees reserve their commutes for the weekend and welcome the opportunity to work while avoiding a rental market where vacancies are running at less then 1 percent.
Relatively speaking, they know they have it good. The boss even pays for the gasoline.
"There's contractors from Alaska up here," said John Maninger, landscape supervisor. "They're in here from all over the place. For us, it's one trip up and one trip back."
Help wanted
Brian Stone doesn't bother commuting. He moved out of Lawrence for good four months ago, after the Lawrence-based excavating company he'd been working for started going out of business.
Now he lives in Milford, a four-minute drive from the Hilltop Subdivision where he now makes $12.50 per hour digging trenches and operating a uniloader for Mack's Backhoe out of Eudora.
"Lawrence is dying down," Stone said last week at Hilltop, where only a handful of for-sale signs lacked "contract pending" placards."This place is like Lawrence all over again, from the early '90s. There's enough work here for the next five years.
"As long as you know what you're doing, there's no problem finding a job. It's all over the city, and on the base, too. If you've got a problem finding a job, you're the one with the problem."
Driving the development work is a decision by the U.S. Army to bring the 1st Infantry Division back to Fort Riley from Germany. Within five years, the fort will be the home base for nearly 19,000 troops, up from 11,000 last year.
The military plans to spend $1 billion during the next five years on new construction and equipment at the fort alone. GPW & Associates, a Lawrence-based electrical and engineering consultant, already has $150,000 in work studying the fort's system for distributing electricity, a project that could give the firm another $350,000 in business in the coming years.
-->
Junction City is busy bracing for the spillover. Counting family members, civilian workers and others affiliated with military operations at the fort, the city expects its population to swell during the next five years from 17,000 to 35,000, said Sam Robinson, director of the Junction City-Geary County Military Affairs Council.
And public investments are pushing to accommodate the influx. The city's talking about building a water park, and the school district added 41 teachers last year and another 40 for this year.
"The superintendent and human resources manager went to the Philippines to get teachers," Robinson said. "It's everything - the hospital, law enforcement, emergency response, firefighters. But the need for housing is so great, we don't have enough (contractors) in town to get it all done. We've had to have other developers come in."
Early settlers
Compton, who owns apartments in college towns throughout the Midwest and whose First Management operation builds office, commercial and institutional projects, couldn't pass on the opportunity.
He and a partner, Kansas City-area developer D.J. Christie, bought 100 acres of rock at the western edge of town. They closed the deal in December, had all zoning and site plans in place within two months and started blasting on the site in March.
Such planning would have taken a year to 18 months in Lawrence, Compton said. Not that he's complaining.
"I think it's a phenomenal opportunity," said Compton, who figures that the 100-acre site would cost three times as much today, given demand for property. "I'm just glad we got out here first."
Morningstar, the Lawrence developer, said his partnerships' projects would keep him busy the next five years. He figures that will give Lawrence enough time to absorb its large number of available new homes and for the community to resume its healthy growth patterns.
He's just happy to have an outlet for success.
"We'll never leave Lawrence," Morningstar said, "but this was just a good business opportunity."
Copyright 2018 The Lawrence Journal-World. All rights reserved. This material may not be published, broadcast, rewritten or redistributed. We strive to uphold our values for every story published.