The previous time he had gone to the golf course after working the graveyard shift, the fatigue he had brought with him put him way behind on the early holes. Ramon McAnderson wasn't going to make that mistake again, not with all those quarters at stake. So he jacked coffees all night and morning at his job operating a press machine for Hallmark during the graveyard shift.
Fifteen holes later, McAnderson had trouble breathing, consumed by dehydration, and was on his way to spending the night in the hospital.
McAnderson, football coach at South Junior High and the father of Kansas University fullback Brandon McAnderson, has preached to his players for years to stay hydrated on hot days.
On that mid-July day when the temperature reached 107 degrees in Lawrence, the coach didn't follow his own advice.
"In my haste to go out there and win some quarters, I almost came to the end of me," McAnderson said, looking back on that scary day at Eagle Bend Golf Course. "Since I'm a coach, I should know better. All the things that I preach, I wasn't doing. I was thinking, golf's not a sport, it's just a recreational thing."
Instead of riding a cart, McAnderson's foursome walked.
"We were trying to save a little money, get some exercise in, lose some of that belly," he said.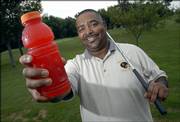 The water in the coolers staggered throughout the course tasted that day like "hole water," McAnderson said.
"It was nasty," he said. "And the cart girl didn't come around until the 13th hole."
By then, the damage had been done. As he stood at the 16th tee, McAnderson had trouble breathing and tried to hit two shots that went nowhere. He said one of the other foursome members, Sherwood Archibald, called the pro shop.
A marshal picked up McAnderson and took him to the pro shop, where Eagle Bend pro John Morris and Free State athletic director Steve Grant tried to cool him down with drinks and ice.
As the players were finishing up, they noticed an ambulance coming to the course and wondered if it was for McAnderson.
It was. Paramedics attended to him, and he was taken to Lawrence Memorial Hospital, where he spent the night.
"They had trouble finding a vein to stick for the IV because when you're dehydrated, your veins shrink," McAnderson said.
Telling an addicted golfer it's too hot to play is akin to trying to convince a relentless stage mother her child is too homely to model. You're just wasting your breath. So take a different approach. Tell a golfer how to prepare himself or herself to play safely in hot and humid conditions. Better yet, let McAnderson tell them.
Words of wisdom
"It took me 17 years to get 3,000 hits in baseball. I did it in one afternoon on the golf course." - Hank Aaron
"On a hot day, what you should do is hydrate yourself 24 hours before you go out to play," McAnderson advised. "It takes 24 hours for your body to get hydrated. You can't just go out there an hour before you play, so if you know it's going to be hot, and you trust your forecaster on Channel 6, watch the weather report if you're going golfing. Get hydrated the night before. Don't drink any caffeine. Drink electrolytes - your Gatorade, your Powerade. All the stuff I knew already."
McAnderson, who said his body temperature soared to "103 or 104" that frightening day, can now be spotted driving a cart at Eagle Bend. The night before he golfs, he said he puts two bottles of Gatorade in the freezer.
Tip
By John Morris
The first time I played golf with my former boss, Jim Kane, he told me I didn't know how to hit my wedges.
He told me if you can't consistently stick your wedges 10 feet from the cup, then you don't know how to use your wedges.
He was right, and ever since then I've spent a lot of time practicing hitting what I call my money clubs, my sand wedge, gap wedge, pitching wedge, 9-iron and 8-iron.
I hit them to practice targets and hit them solid. At the same time, don't forget the biggest money club, the driver. Make sure to practice hitting your driver in the fairway.
- Tipster John Morris is the head pro at Eagle Bend golf course.
This week in golf:
Hole
No. 8, Alvamar Golf Club
Par: 3. Yards: 183 (championship tees)
This elevated tee box offers a nice view of a shot down to an elevated green surrounded by sand bunkers. Don't be tempted into hitting too much club because the tee box is much higher than a green that must be studied from all angles before putting because of some deceptive breaks. At the same time, factor in the wind when selecting your target and/or club because the ball will get high enough to be influenced by the wind.
Copyright 2018 The Lawrence Journal-World. All rights reserved. This material may not be published, broadcast, rewritten or redistributed. We strive to uphold our values for every story published.