Medinah, Ill. — The PGA Championship has rarely looked so easy.
With Tiger Woods atop the leaderboard, winning the final major of the year could still be as hard as ever.
His final birdie Saturday came on the par-3 17th hole, a 12-foot putt that nearly spun out of the side of the cup. Woods was walking to the hole when he stopped, sighed when it dropped, then pointed his finger at the cup as if reminding his golf ball to behave.
It led to a 7-under 65, matching the course record at Medinah.
And it left him tied at the top with British-born Luke Donald, who knows as well as anyone that Woods is 11-0 when he has at least a share of the 54-hole lead in the majors.
"His numbers are obviously impressive and that's why he's the best player in the world," Donald said after his 66. "He knows that just playing his game is going to be good enough, usually."
But this is a new game for Woods.
The notion of par being a good score in the Grand Slam events was laughable at Medinah, where soft greens have allowed Woods, Donald and everyone else to take dead aim at the flag, forcing them to make birdies to stay in the hunt.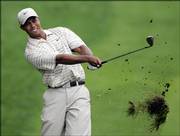 Both made their share to finish at 14-under 202, matching the record in relation to par for this major. David Toms led at 14-under 196 when he won the PGA Championship five years ago in Atlanta.
"Most majors ... you're just trying to survive and make pars," Woods said. "Tomorrow, I think anyone who wants to win this championship has to make some birdies."
Mike Weir made nine of them and also shot 65, putting him two shots behind at 204. U.S. Open champion Geoff Ogilvy recovered from a double bogey on his first hole to shoot 68 and was at 11-under 205. Another shot behind was Sergio Garcia, runner-up to Woods at Medinah seven years ago, and former PGA champion Shaun Micheel.
Whatever the case, all eyes are on Woods.
"It's going to take a low round, because you know Tiger is playing flawless golf," Micheel said. "He's going to be a tough man to catch."
Woods soared into the lead with a string of splendid shots, starting with a 3-iron from 250 yards over Lake Kadijah to 6 feet on the par-3 13th. Then came a bunker shot to 2 feet on the par-5 14th, and a 9-iron from a sand-filled divot to 3 feet on the 15th.
All that went wrong was a three-putt bogey on the next hole, ending his streak of 50 holes at par or better.
But he bounced back with the birdie on the 17th, and Donald matched his birdie with a 6-iron into 4 feet.
"In most major championships, you make pars and sprinkle in a couple of birdies here and there and you're looking pretty good," Woods said. "Today you would have just been run over."
Copyright 2018 The Associated Press. All rights reserved. This material may not be published, broadcast, rewritten or redistributed. We strive to uphold our values for every story published.