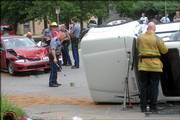 Two people suffered injuries Friday afternoon in an accident that tipped a car in the Oread Neighborhood.
At 2:38 p.m., a 22-year-old Wichita woman was driving a Toyota Land Cruiser west on 13th Street and failed to stop at a stop sign on Tennessee Street, said Kim Murphree, a Lawrence police spokeswoman. The vehicle, above, was then struck by a northbound maroon Toyota Corolla, Murphree said.
An 81-year-old Lawrence woman drove the Corolla. The Land Cruiser spun until it landed on its side, Murphree said.
Medics with Lawrence-Douglas County Fire & Medical transported the 22-year-old Wichita woman to Lawrence Memorial Hospital. A relative took the 81-year-old to LMH.
Murphree said neither of the drivers was critically injured and that names were unavailable.
10th and Tennessee
Copyright 2018 The Lawrence Journal-World. All rights reserved. This material may not be published, broadcast, rewritten or redistributed. We strive to uphold our values for every story published.