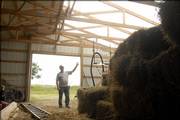 Maurice Woolsoncroft doesn't know whether it was a tornado, microburst or just high winds, but it sure jarred him awake and out of bed in a hurry early Friday.
"Yeah, I was startled," Woolsoncroft said, adding that the bedroom window was blown open, causing it to swing inward on its sashes. He was not hurt.
Outside, Woolsoncroft later found additional damage on his farm northeast of Lawrence at 1984 East 1600 Road. Part of his barn roof was gone. Two windows were broken out of the garage and the windshield on his pickup truck was damaged. Three trees also were blown down and a road sign was damaged.
Thunderstorms moved into the Lawrence area about 11:15 p.m. Thursday and continued into Friday morning. About midnight Thursday, lightning struck a power line near the Chi Omega sorority house, 1345 West Campus Road, knocking out power.
At 2 a.m., the sorority house director woke up and found smoke coming from the basement. The house was evacuated and firefighters were called.
"We stood outside until 4 in the morning," sorority president Mallory Hammersmith said.
The women later retreated to the Lawrence Holidome, where they spent the night sleeping on a ballroom floor.
The electricity and air conditioning were later restored and the house was reopened. No one was injured in the incident.
The National Weather Service in Topeka said it had no reports of tornadic or microburst activity in Douglas County or anywhere else in Kansas, despite the storms. There were 50 mph straight-line winds reported in Nemaha County.
At Lawrence Municipal Airport, 0.18 inches of rain fell during the storm, 6News meteorologist Matt Sayers said.
Winter Weather
Winter weather information
"There were absolutely no severe storm reports around here," Sayers said.
But don't tell that to Woolsoncroft.
"You couldn't hear anything," he said of the wind storm that struck his place. "There was no howling, just the crashing."
There is a chance for more rain this morning before becoming partly cloudy this afternoon, according to the weather service and Sayers. Today's high is expected to be 84.
Copyright 2018 The Lawrence Journal-World. All rights reserved. This material may not be published, broadcast, rewritten or redistributed. We strive to uphold our values for every story published.