Miami — In his first public comments as Cuba's acting president, Raul Castro hinted Friday that he is ready for dialogue with Washington - using typical Havana rhetoric with words that nevertheless bolstered speculation about a post-Fidel turn to pragmatism.
"The thrust is very largely on relations with the United States," said Brian Latell, a former top CIA analyst and Raul biographer. "It's very firm, but at the same time it's highly nuanced. This may be the beginning of Raul asserting his own distinct form of authority."
Others, however, discounted the words as a message for dialogue: "It's the same dance to an old song," prominent Cuban dissident Vladimiro Roca said by telephone from Havana.
Raul Castro's statements, disclosed during an interview published in the Communist Party's Granma newspaper, also focused on defensive-military readiness, issues that some Cuba watchers took as a stern warning to the island's 11 million people not to cause trouble.
But his reference to dialogue with the U.S. raised eyebrows in and outside of Cuba because there long has been speculation that when the younger Castro assumed power he would reach out to the United States in order to protect his foreign flank while he deals with the business of securing his domestic control.
"We have always been disposed to normalize relations on an equal plane," Raul Castro said in the lengthy interview. "This would be possible only when the United States decides to negotiate with seriousness and is willing to treat us with a spirit of equality, reciprocity and the fullest mutual respect."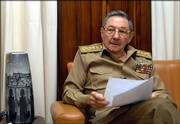 In Washington, the State Department referred to Raul Castro as "Fidel's baby brother," and said the Bush administration was not impressed by his remarks.
"You know, we're not particularly fond : of the government of Cuba as run by Fidel," said spokesman Tom Casey. "I can't say that we're particularly enamored of the first words we've heard from 'Fidel Lite."'
"What we want to see is a transition from the current dictatorship to a democratic government," Casey said. "And we certainly don't think that a transition from Fidel to Raul Castro fits that bill."
Also Friday, National Intelligence Director John Negroponte announced that he was creating a "mission manager" for Cuba and Venezuela, who would oversee the U.S. spy community's efforts to collect and analyze intelligence on the two Latin American countries.
Copyright 2018 The Lawrence Journal-World. All rights reserved. This material may not be published, broadcast, rewritten or redistributed. We strive to uphold our values for every story published.