Kansas University's football program has taken multiple blows to the gut in the last two weeks by an injury bug that has ravaged preseason camp.
Some of the injuries have been minor, a few somewhat serious and at least one season-ending.
The latest case is backup tailback Angus Quigley, who is lost for the year with an ailment that KU coach Mark Mangino wouldn't discuss in detail. He did say it was serious enough for the coaching staff to know that even four months from now, Quigley won't be playing.
"He suffered an injury that's unusual, a very unusual injury," Mangino said. "In fact, our medical team, Jeff Randall, had to do extensive research to find out who's an expert on these types of injuries. He is going to be under the care of the lead orthopedic surgeon for the Miami Dolphins."
Quigley joins a stable of players on the projected two-deep who weren't at Friday's open practice for health reasons. Linebacker James Holt and free safety Darrell Stuckey were injured last week, and strong safety Jerome Kemp suffered a leg injury this week. They did not attend practice.
A fifth, linebacker Eric Washington, is dinged up and was held out of Friday's workout, though he was there in pads.
Mangino confirmed that Holt and Stuckey would not be ready for the start of the season, though he was confident Kemp and Washington would be available against Northwestern State on Sept. 2.
Photo Gallery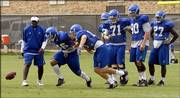 KU football
Together, the ailments are a big blow for KU, particularly on defense and especially with depth. With Holt and Washington both out, the first-team linebackers Friday were Joe Mortensen and Jake Schermer outside and Mike Rivera in the middle. First-team safeties were freshman Olaitan Oguntodu and sophomore Sadiq Muhammad. Justin Thornton and Tang Bacheyie also saw plenty of work.
"It hasn't been easier," wide receiver Brian Murph said of going against KU's secondary. "If anything, it got harder because everybody's fighting for a spot."
Offensively, Quigley's setback clinches what was all but certain: that freshman Jake Sharp will not red-shirt this fall. Sharp, shifty and quick, worked well on the second team behind Cornish on Friday and likely will get carries along with Cornish and fullback/single back Brandon McAnderson this season.
Kansas continues fighting through the setbacks, and Mangino for one found a way to put a positive spin on it.
"Injuries are a part of the game," Mangino said. "The way I look at injuries is, one door closes, another one opens. It's an opportunity for other players to shine."
¢
Rising to the top: Schermer's rise to first-team linebacker may have been the least expected, considering hype surrounding Rivera, Mortensen, Holt and Brandon Duncan in recent months.
One year ago, Schermer was on scout team after finishing up high school at Ozark (Mo.) High, near Springfield. He wasn't mentioned often among the new-look linebacker fleet hoping to replace last year's senior class.
Now, he's looking at getting a large chunk of playing time for being "tough as nails" and "highly intelligent," according to Mangino.
"Now thinking about, it's pretty amazing," Schermer said of his climb. "But I think a lot of people could do it, if you put your mind to it."
¢ Still uncertain: Kansas mixed and matched five different receivers among first-team repetitions Friday, including Murph, Marcus Herford, Dominic Roux, Dexton Fields and Marcus Henry.
"The receivers right now might be the most improved group since last season on the field," Mangino said. "They really are. I think those kids are coming together, and there a lot of able-bodied kids there."
¢ What's next: KU will scrimmage for fans as part of fan appreciation day at 5:30 p.m. Wednesday. The event will be held at Memorial Stadium and is KU's last non-game action fans will be able to see this season.
Copyright 2018 The Lawrence Journal-World. All rights reserved. This material may not be published, broadcast, rewritten or redistributed. We strive to uphold our values for every story published.