Tom Brady comes from a century-long line of Kansas pastors, but he was never exactly itching to break into the family business.
"I hadn't planned on being a pastor," Brady says, "but that's what I ended up doing, and it's been working out pretty good."
Today, Brady follows family tradition as senior pastor of the First United Methodist Church, 946 Vt., a position he's had since February.
His spiritual lineage runs as deep as the mid-1800s, when Brady's great-great-great-grandfather preached the good word at The Church of the Brethren in Kansas. Or maybe Illinois - the family's not certain.
Since then, the family has produced at least one pastor for every generation, a tradition that Brady insists he wasn't forced into.
"My dad told me, 'If you can do anything else, do it.' Being a pastor is really a lifestyle and a life choice, not just a vocational choice. I mean, your whole life revolves around the church and what's happening," Brady says.
Lately, Brady's whole life has revolved around the FUMC's newest addition.
After 15 years of planning and one year of construction, the church is unveiling its new West Campus Celebration Center, 867 Highway 40. The Celebration Center is the main building on the 47-acre campus in West Lawrence, which also has a soccer field, a pond and a walking trail.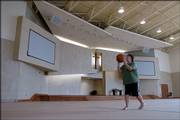 The Center features a full-size basketball court and worship center, office, kitchen and classrooms.
This Sunday, the FUMC is officially kicking off worship at the Celebration Center with a 9 a.m. service open to anyone.
Sunday also marks the beginning of several fall programs run by the church, like Wednesdays Out West, or "WOW," a children's recreation program that will take place Wednesdays at the West Campus.
Brady says that the new center offers his congregation room to grow.
"We didn't really build it so much for ourselves ... you know, to divide the congregation in two places," Brady says, "but for new people."
Lawrence landmark
Since around 1890, the FUMC has been stationed exclusively in its landmark limestone building downtown. With its prominent location and soaring bell tower, the building has become a historic piece of downtown Lawrence.
Tracy Kihm, FUMC's business administrator, says that she subscribes to the "one church, two campuses" philosophy. But, she adds, not everyone in the 1,600-person congregation does.
"There are people that are concerned, I think, that this building would be abandoned and we would put all our focus out west," Kihm says. "That is not our intent at all."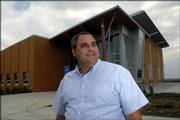 Kihm adds that the dual campuses allow for more diverse church programs. She foresees church members going to different campuses for different activities.
"They can still come downtown and worship, but they can go out west for recreation events," Kihm says.
Brady says the decision to build in West Lawrence reflects the direction the town has grown in past years.
"We wanted to build where the people are. And the truth is, there are parking limitations downtown ... that really restricts growth in some ways," Brady says. "Out there, we've got plenty of land to expand. That part's exciting."
He estimates it will take three months to complete the final additions to the West Campus. There's a bridge for the walking trail, a sand volleyball pit and a playground on the way.
God's calling
As Brady lists off each new feature of the West Campus, he jokes that the complex won't be complete for another 100 years.
But, like his father, Brady doesn't expect his children, Scott, 18, Steve, 17 and Sarah, 14, to pick up where he leaves off.
"I want them to do whatever makes them happy, and whatever they decide to do. I'd be excited if they decided to go in the ministry, but don't have any expectations that they will," Brady says.
He says he believes a higher power, not family pressures, inspired his decision to enter the ministry.
"You have to be sure that that's what God's calling you to do," he explains. "I really felt like this is what God wanted me to do."
Copyright 2018 The Lawrence Journal-World. All rights reserved. This material may not be published, broadcast, rewritten or redistributed. We strive to uphold our values for every story published.