Photo Gallery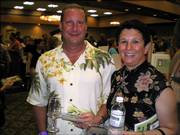 People and places
Cottonwood Inc. would like to raise a glass to those who attended its eighth annual Salute! fundraiser in mid-July.
The event, which raises money for programs for people with disabilities, raised more than $85,000, a record.
The three-day fundraiser was attended by at least 1,000 people, another record high. Among the attendees was Kendall Gammon, tight end for the Kansas City Chiefs, and his wife, Leslie. They were celebrity hosts during the event, which included:
¢The Mass Street Mosey, from 5 p.m. to 8 p.m. July 13. It featured 20 different wines and food at 10 venues along Massachusetts Street.
¢The Winemaker Dinner, July 14 at Pachamama's. Representatives of Luna Winery and Arnold Palmer Wines discussed different vintages and how they were made.
¢The Grand Tasting & Auction, 6:30 p.m. to 10:30 p.m. July 14 at the Lawrence Holidome. Attendees had the opportunity to sample from at least 250 wines and spirits and eat food from area restaurants and caterers. It also included silent and live auctions, with bidding on bottles of wine, trips and other products and services.
"We are so grateful to the people of Lawrence and the surrounding communities for their generous support of Cottonwood through their sponsorships and participation in Salute!," said Peggy Wallert, director of community relations and development at Cottonwood Inc. "It was amazing to see how people responded to all three events this year - each event was at capacity."
Copyright 2018 The Lawrence Journal-World. All rights reserved. This material may not be published, broadcast, rewritten or redistributed. We strive to uphold our values for every story published.