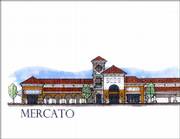 The new commercial area expected to be Lawrence's western gateway for years to come is beginning to take shape.
Developers who own 45 acres of commercially zoned property at the northeast corner of Sixth Street and the South Lawrence Trafficway have filed their most detailed plans yet for a new shopping and office center that will accommodate at least one big box store and several smaller shops or restaurants.
"This is a true gateway to Lawrence that I think we're all going to be proud of," said Tim Fritzel, a Lawrence developer who is working with longtime Lawrence developers Duane Schwada and Steve Schwada to build the project. "I think this could end up being a real feather in our cap and a feather in the community's cap when it is all done."
The development - dubbed Mercado - will feature Tuscan-style Italian architecture for all 10 buildings proposed for the site.
The developers don't have tenants for the project, but likely will try to attract national or regional retailers that Lawrence residents currently drive to Topeka or Kansas City to find.
"It could be done in a way to provide Lawrence residents more opportunities to spend their money in town," Steve Schwada said.
Definite timelines for the project aren't in place. Duane Schwada said it could be a year before the first tenant for the site is found, and the plan calls for the development to be built in six phases over "several years."
Just how many new stores would be at the site also isn't fully determined. When city commissioners approved the commercial zoning for the property in May, they limited how much new retail development would be allowed there.
City commissioners set total retail space at 184,640 square feet, though the zoning allows for other types of commercial development such as banks and offices that would not be considered retail uses.
The plan the developers have submitted to the Lawrence-Douglas County Planning Office proposed about 350,000 square feet of commercial space. The project is anchored by three large buildings - 175,000 square feet, 60,000 square feet and 50,000 square feet - in addition to seven smaller buildings ranging from 10,500 square feet to 4,000 square feet.
The developers concede that under the current restrictions they could not fill all three large buildings with retail stores. But, for example, they could fill the two smaller large footprint buildings and the majority of the seven outlying buildings with new retail shops. Or they could just fill the one large 175,000-square-foot building and only one or two of the smaller outlying buildings. Any space not occupied by stores or restaurants could be used for other nonretail uses such as banks, offices or service businesses.
Less opposition
Members of the development group stopped short of saying they would ask the city to increase the amount of retail allowed at the site, but they clearly believe the area could accommodate more stores.
"The site has tremendous exposure and visibility," Duane Schwada said. "We're following the deal the City Commission has approved because that's all that we can do."
Commissioners limited the retail space because there were fears too many stores would hurt downtown businesses and create traffic problems on Sixth Street.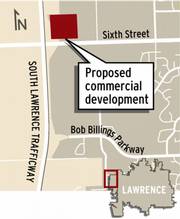 Fritzel, though, said he didn't expect the new development to be direct competition for downtown. He also pointed out that his family's business - Gene Fritzel Construction Co. - is one of the larger downtown property owners and has proposed about $150 million worth of new development in downtown as part of a proposal to build a new downtown library.
The developers said they also believe the timing of the project will help alleviate traffic concerns. Currently, most of the property surrounding the site is undeveloped.
"This is a rare opportunity for the community to plan a large development ahead of any residential uses," Duane Schwada said. "This will be ahead of all the traffic. It will be ahead of all the houses."
Thus far the approach has worked well. The Mercado project has faced far less opposition from neighborhood groups than a shopping center and a Wal-Mart store has faced at the intersection of Sixth Street and Wakarusa Drive.
-->
Gwen Klingenberg, president of the Lawrence Association of Neighborhoods, said her West Lawrence members were watching the project, but were taking some comfort in the fact that the amount of retail uses has been capped and the project likely would be built in phases over a number of years.
"I don't think there is as much concern with this project as some others because there have been some limits put in place," Klingenberg said. "The neighborhood hopes those limits stay in place. That is a very important issue for the neighborhoods."
Interim planning director Sheila Stogsdill said planning commissioners likely will review plans for the development at either their Sept. 25 or Sept. 27 meeting. The plans ultimately will need City Commission approval.
6th and the SLT
Copyright 2018 The Lawrence Journal-World. All rights reserved. This material may not be published, broadcast, rewritten or redistributed. We strive to uphold our values for every story published.