Medinah, Ill. — It was opening day of the PGA Championship, or, if you prefer, round one of the Tiger Woods-Phil Mickelson battle at Medinah Country Club. The record will show that when it came time to play, the two competitors shook hands, walked to opposite corners of the tee and then came out swinging ... their clubs.
Scorecards showed matching 69s for Woods and Mickelson, their showdown ruled a draw, but still accompanied by the kind of fanfare that might be expected from this rare superstar matchup.
Even Geoff Ogilvy, the U.S. Open champion and third member of the group, was impressed by the scope and the spunk of the gallery that followed them when they began the day at the 10th tee.
"I didn't know there were that many cameras in Illinois," said Ogilvy, who also shot a 69.
Meanwhile, who knew there would be so many birdies at Medinah? The layout is 7,561 yards, but with four par fives and a par of 72, not to mention soft greens, Medinah was there for the mauling.
Most successful at discovering birdies were Chris Riley and Lucas Glover, who shared the first-round lead at six-under 66 on what turned out to be a good day for scoring. There were 20 players who shot in the 60s.
But there were also 60 who shot under par and if that sounds like a lot, it is. It's the highest number of players to shoot under par in any round of the PGA Championship. The previous record was 58 in the second round in 1995 at Riviera Country Club.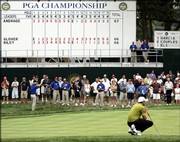 Glover, 26, is 14th in Ryder Cup points and could win a place on the team with a good week. Riley, 32, from San Diego, has already played on a Ryder Cup team, but he's looking for his first PGA Tour victory in four years and hasn't had a top-10 finish in 18 tournaments this year.
"My back is up against the wall now and it's time to play golf, and I'm fine with that," Riley said. "My attitude's a lot better. Nothing bothers me and I know I hit the ball well enough, so if I make a bogey, I'm going to have a lot of birdie chances."
Glover recently was in the last group at the Buick Open and paired with Woods, but he closed with a 72 and tied for 15th while Woods shot a 66 and won.
"That was tough to swallow," Glover said. "Butterflies were there, playing with Tiger and all the people, something I never experienced. But it was a good experience. And watching him at his best, I think he hit two bad shots all day and then what you take away from that, I've got to improve. That's the bottom line."
Billy Andrade, playing in his 17th PGA Championship, is in third place after his 67, one shot ahead of a group of six that includes Davis Love III, Luke Donald and Stewart Cink.
Woods, Mickelson and Ogilvy are three shots back of the lead, bunched together with nine others at 69.
Andrade got in the field as an alternate and made the most of his opportunity.
"My expectation coming into majors is to try to get in the mix and try to have a chance to win," he said. "But I'm not supposed to do anything. The top players are. And those guys got the pressure on them."
As for the top two players in the world, the Woods-Mickelson dynamic has been much discussed this week, not only because of their stature, but also because it's the first time they've played together in a major since the 2001 Masters.
"It seemed like 40,000 (people) were on about two holes ... the hole in front of them and the hole they were on," said J.J. Henry, who had a 68.
But outside of a brief interlude of laughter, it seemed more about golf's business as usual and less about interpersonal fireworks.
Asked to describe the bottom line of what he felt his group produced, Woods was brief. "Sixty-nines," he said.
Copyright 2018 The Lawrence Journal-World. All rights reserved. This material may not be published, broadcast, rewritten or redistributed. We strive to uphold our values for every story published.