The band name "The Wailin' Jennys" is enough to get some people to buy a concert ticket - even if they don't know who they're going to see.
"We've had two instances I'm aware of where people thought they bought tickets to see Waylon Jennings," band member Nicky Mehta says. "Apparently they hadn't heard that he died."
Jennings, the country crooner, may have died four years ago, but his bastardized namesake, The Wailin' Jennys, are very much alive.
The Canadian trio, featuring rootsy folk music with three-part harmony, will be in Lawrence tonight for the annual free outdoor concert at the Lied Center, on Kansas University's west campus. The concert, which begins at 7 p.m., typically brings around 3,000 people to the Lied Center lawn.
The group started in 2002, when three Winnipeg-based musicians gathered for what was supposed to be a one-time gig at a music store there. Those three - Mehta, Ruth Moody and Cara Luft - hit it off and started touring as The Wailin' Jennys.
The name was among those suggested by the music store owner where they first played - they picked it over others that included Folk Vixens.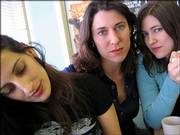 "We wish we had a more interesting story," Mehta says from Edmonton, Alberta. "We joke that we're his three illegitimate daughters who happened to find each other."
The band put out its debut full-length CD, "40 Days," in 2004, shortly before Luft left to pursue a solo career. She was replaced with Annabelle Chvostek.
"It was a bit of a surprise when Cara left," Mehta says. "With finding Annabelle, we were lucky to find that blend. You can't manufacture that - it's either there or it is not. Her songwriting and instrumental abilities were so perfect for the group."
Chvostek plays fiddle, mandolin and acoustic guitar. Mehta plays guitar, harmonica and percussion, and Moody plays guitar, banjo, accordion and bodhran, an Irish frame drum.
The Wailin' Jennys released their second album, "Firecracker," earlier this year.
"Really, the music has a lot of different influences: Celtic, country, pop," Mehta says. "We're on the bluegrass charts, which is amazing to me, because I wouldn't call us bluegrass at all, though there certainly are bluegrass influences."
Past Event
FREE Outdoor Concert and Lied Center Family Arts Fesival
When: Friday, August 18, 2006, 6 p.m.
Where: Lied Center, 1600 Stewart Drive, KU campus, Lawrence
Cost: Free
-->
-->
Mehta says she prefers playing in the group over playing solo shows.
"You have all this support, and that's everything from the fact you've got other people playing other instruments on your tunes to the type of singing," she says. "Singing harmony is a great feeling. There's something physically that happens when you sing harmony that's really amazing. It's a supportive experience."
The Jennys have toured in Europe, Canada, the United States and Australia. They were in Salina earlier this summer for the Smoky Hill River Festival.
Mehta says the group finds escape in eating food from local restaurants and has a section of its Web site devoted to good restaurants where they've eaten.
"We're obsessed," she says. "We're on the road so much, that's our comfort. It's kind of dangerous, I guess. When we come into a town, we usually ask what's the best independently owned restaurant in town. Now, because enough people know about the food page, we get guest book entries saying, 'This is the best vegetarian restaurant in Spokane' or whatever."
Audio Clips
The Wailin' Jennys
Now more than four years after their formation, Mehta says the Jennys are happy with their progress as a band - even if it takes an unusual name to catch people's attention for the first time.
"It's been an amazing thing, the number of people who say they came to see us just because they saw the name and thought it sounds like fun," Mehta says. "If people come to a show because they like your name, then that's a pretty good name."
Copyright 2018 The Lawrence Journal-World. All rights reserved. This material may not be published, broadcast, rewritten or redistributed. We strive to uphold our values for every story published.