It took one year, a few phone calls and cancer to reunite Split Lip Rayfield.
Tonight, the heartfelt hillbilly punk quartet is getting back together to play the second show in a tour that's billed to be its last.
Usually when artists announce "final" tours, it's to scare up hype, publicity and, almost always, money. But that's not the case for Split Lip Rayfield, a Kansas band whose frontman was just told he had two to six months to live ... two months ago.
Early this year, Kirk Rundstrom was diagnosed with esophageal cancer in the midst of a Split Lip Rayfield tour. After playing a few more shows, Rundstrom, 37, endured aggressive chemotherapy and radiation in hopes of shrinking the tumor in his throat.
In June, he went under the knife to have what was left of it removed. That's when doctors discovered that the cancer had spread to his heart, stomach and lymph nodes.
"I woke up and realized they'd only made the first incision in my stomach to open me up," Rundstrom remembers, "and so I was actually thinking that they had easily gotten it. But when I saw my dad's face, I knew it was bad."
Despite the news, Rundstrom isn't giving up.
He's traded chemo for acupuncture and vitamin C. He's exercising daily and, gradually, he's relearning the guitar.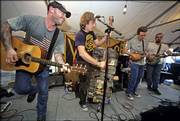 "I'm slowly building my strength back up to make chord shapes and stuff," he says.
Tonight, he'll join banjo player Eric Mardis, gas tank bass player Jeff Eaton and, for the first time in over a year, mandolin and trombone player Wayne Gottstine onstage.
"Just seemed like the right thing to do, so that's what we're doing," Rundstrom says.
Bittersweet reunion
If there's one good thing that cancer has done for the band, it's brought the members back together.
Gottstine left the band last year. Some say Split Lip's breakneck touring pace became too much for him. He says he had to "take care of some critical things." Whatever happened, Gottstine and Rundstrom lost touch after playing together for nearly 20 years.
When word of Rundstrom's diagnosis spread, things changed.
"At the time, we were estranged," Gottstine says. "So when I heard the news I immediately called him and ... it's tough to think about sometimes. He's my boy."
And, even though the circumstances of the latest tour are "incredibly bittersweet," Gottstine says the band's having fun again.
"We're gettin' some playin' in. I'll have to admit that when the four of us got together to play, it's like we'd never stopped," Gottstine says.
Out of bed
Split Lip Rayfield
With: Drakkar Sauna When: 10 p.m. today Where: The Bottleneck, 737 N.H. Tickets: $15 (all-ages show) Ticket info: 841-LIVE ¢ The band will also play a second show at The Bottleneck on Monday. Tickets are $12.
More about Split Lip Rayfield
Nan Warshaw is a longtime friend and fan of Split Lip Rayfield.
She's also co-owner of Bloodshot Records, the Chicago-based label that signed the act. She says it was Split Lip's "unique, high-energy live show" that scored it the deal.
When she found out the Split Lip concert in Chicago fell in the middle of a vacation she'd already planned, Warshaw rescheduled her flight. Missing the show wasn't an option.
Theirs is a performance that's hard to forget, perhaps because one instrument is a gas tank strung with a weed wacker cord. The crude instrument, when plucked, has a hillbilly twang to it, one that goes nicely with Rundstrom's lyrics. His songs are about rural life: whiskey, trains falling off their tracks, guns, rivers, burning barns and loneliness.
"There's something special about Split Lip Rayfield," Gottstine says. "I don't know what it is, but people seem to like it. ... We get up there and we're like just a bunch of robots, you know, programmed to destroy."
But that kind of pace can take a toll on someone who's been bedridden for most of the year.
"We've practiced through the entire show. (Kirk) has the stamina. It wears him out but, you know, he's made it through. His voice is sounding pretty good. His guitar playing is fine. I think it'll be good," Gottstine says.
You might think Rundstrom has more to write about now than ever before. But writing hasn't been on his mind lately.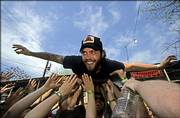 "This is the first time I've really been up and out of bed since January. I haven't had a chance to write anything new," Rundstrom says. "I'm just learning how to play the guitar again."
He says he'll play whatever Eric Mardis puts on the set list each night of the tour.
The last waltz
Split Lip's last tour also will allow the band to raise money to cover a few of Rundstrom's medical bills.
It's been well-publicized that Rundstrom didn't have health insurance when he was diagnosed. For months, there have been countless benefit concerts and art auctions in his name. The band's Web site has raised thousands of dollars with a donation button.
"The doctor bills are through the roof, and the benefit money doesn't touch the doctor bills, but it allowed me to live, you know, and pay my rent, and eat. ... I'm indebted gratefully to everybody and their support," Rundstrom says.
Now, you can purchase the group's latest CD, "Live at the Bluebird," on www.splitliprayfield.com. The concert was recorded two days after Rundstrom was diagnosed, and he calls it "one of the best shows we ever did."
It was his decision to finish the last couple of tour dates then. And, Warshaw says, it was Rundstrom's idea to embark on Split Lip Rayfield's last tour.
The other band members didn't hesitate at all, she adds.
"He wanted to do it, so in a way it was the least they could do for him. And the fact that Wayne has rejoined the band for these last tour dates, I think says a lot, too," Warshaw says.
Gottstine says that ultimately, the band reunited for the music.
"That's what we all love. We all just want to play music," Gottstine says, "and he just wants to wrap it up with doing the things he loves. ... I think it'll keep him around longer, actually."
Copyright 2018 The Lawrence Journal-World. All rights reserved. This material may not be published, broadcast, rewritten or redistributed. We strive to uphold our values for every story published.