Qleia, Lebanon — Villagers throwing rice and Hezbollah supporters holding banners welcomed the country's army to south Lebanon on Thursday after a nearly 40-year absence, and the first airliner landed at Beirut airport since fighting began more than a month ago.
Four days into a cease-fire between Israel and Hezbollah, there was still no firm date for a deployment of an enhanced international force that is supposed to expand to 15,000 troops and join an equal number of Lebanese soldiers.
The United Nations received pledges Thursday of 3,500 troops for the force, with Bangladesh making the largest offer of up to 2,000 troops. But France offered just 400, and Germany - uneasy given its Nazi past of any possible military confrontation with Israeli soldiers - said it wouldn't send any.
France was expected to lead the U.N. force, and its announcement of such a small number focused attention on its demands for a more explicit mandate, including when to use firepower, and could affect contributions by other countries.
Even though the Israel withdrawal and handover to U.N. forces has gone well thus far, some potential contributors are believed to be concerned about avoiding confrontation with Hezbollah or being caught in the middle of a future conflict.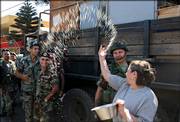 In Beirut, the international airport reopened to commercial traffic for the first time since July 13 when it was attacked by Israeli warplanes and gunboats. A Middle East Airlines passenger jet touched down from Amman, Jordan, ending a 36-day Israeli blockade, and a Royal Jordanian flight followed soon after.
The Israeli military said it was coordinating the arrivals, and that the air blockade had not been lifted.
In southern Lebanon, about 2,500 Lebanese soldiers from the 10th Brigade set up camps within a half-mile of the Israeli border - a key step toward taking control of the whole country for the first time since 1968 and a major demand of the U.N. resolution.
The deployment marks the first time the Lebanese army has moved in force to a region that was held by Palestinian guerrillas in the 1970s and by Hezbollah since Israeli troops withdrew from the area in 2000.
Copyright 2018 The Associated Press. All rights reserved. This material may not be published, broadcast, rewritten or redistributed. We strive to uphold our values for every story published.