Washington — The arrest of an American former schoolteacher in the decade-old killing of JonBenet Ramsey created a tangle of questions Thursday about whether the sensational crime has finally been solved, even as the suspect told reporters in Thailand that he had been with the child beauty queen when she died.
With no public evidence linking John Mark Karr, 41, to JonBenet's strangling or to Colorado, where the slaying occurred, the Boulder County district attorney emphasized Thursday that the arrest had been made "early in the investigation" and that "the analysis of the evidence in this case continues on a day-to-day basis, on an hour-to-hour basis."
'Too affectionate'
Meanwhile, the image of Karr that began to coalesce Thursday from public records and people who knew him is of a man who has long had what his ex-wife said in divorce papers was "a tendency to be too affectionate with the children."
Karr had an earlier marriage to a girl who was 13 when they wed. He had a peripatetic history of brief jobs in schools. He abruptly quit a teaching internship in Alabama his last semester of college, after complaints about his behavior in class. A year later in California, he was arrested and jailed - though never convicted - on child pornography charges, skipping out on a court appearance soon after his release and eluding police.
Contradictions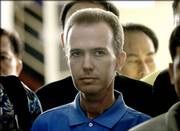 Despite this history, a variety of contradictions surfaced Thursday that challenged Karr's avowed role in JonBenet's death, which he called an accident. According to a Thai police officer briefed by U.S. authorities, Karr said that he had drugged and sexually assaulted the 6-year-old girl before she died. Her autopsy, however, reported no indication of drugs and inconclusive evidence of whether she had been raped, according to the Ramsey family's lawyer.
Karr's second ex-wife, Lara Karr, told a San Francisco television station that they had been together in Alabama the day after Christmas of 1996, when JonBenet's beaten body was found in her family's home in Boulder. Karr was attending a community college in Alabama at the time.
The girl's father, John Ramsey - who, with his late wife, Patsy, was for years under what police called an "umbrella of suspicion" in the case - was reported by a Denver television station to have said that he could not recall any connection with the suspect. When JonBenet's body was found, police found no evidence of forced entry into the family's house.
At a news conference in Boulder, the district attorney, Mary Lacy, was asked whether she is concerned that the rare full confession could prove false.
"We can't comment on the evidence in this case at this time," Lacy replied. Quoting John Ramsey's words from the day before, she said: "Do not jump to conclusions, do not jump to judgment, do not speculate."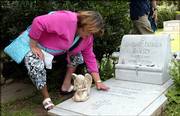 Name never came up
Karr is the first person arrested in the case. The nine-year investigation sparked a bitter feud between police and prosecutors in the Colorado university town, accompanied by countless articles and hours of newscasts spinning theories in the case. During the years of furor, Karr's name never came up.
Lacy said Thursday that Karr was arrested in Bangkok on Wednesday, the day after he began to teach at an international school there. She said her office had provided Thai authorities with a sealed statement to support their application for an arrest warrant but did not say what evidence it contained.
Karr has not been charged with any crime. Thursday, Ann Hurst, attache of U.S. Immigration and Customs Enforcement to the Thai government, said at a news conference that Karr will be taken within the week to Colorado, where he will face charges of first-degree murder, kidnapping and child sexual assault.
Correspondence
Prosecutors became interested in Karr through a series of e-mails he sent to a University of Colorado journalism professor who has made documentaries about JonBenet's killing. The professor, Michael Tracey, said he had been corresponding with Karr - who used an assumed name in the e-mail exchange - for "about four years" before he mentioned the correspondence to the prosecutor's office. In an interview, Tracey would not say what prompted him to alert prosecutors.
According to one source close to the investigation, Boulder County prosecutors asked federal investigators to help identify the e-mails' author by his pseudonym. Meanwhile, FBI Special Agent Stephen Emmett in Atlanta and Police Chief Ed Williams of Roswell, Ga., said they also provided help - including an agent and police sergeant specializing in computer crime investigative resources - to the effort to identify and locate Karr.
Working with the FBI, Lacy said, she learned about 10 days ago that he was in Bangkok and sent an investigator there.
'An accident'
Thursday, Karr, a slim, youthful-looking man, appeared nervous and spoke slowly, almost dazed, as he was peppered with reporters' questions when he appeared in a Thai immigration detention center. "I loved JonBenet very much," he said. "Her death was an accident." Asked whether he is innocent, he shook his head and replied, "No."
He also said that he had "contacted the Ramsey family, especially before Patricia passed away, and I conveyed to her many things, among them, that I am so very sorry for what happened to JonBenet."
13-year-old bride
Karr was born in Georgia and went to live with his grandparents in Hamilton, Ala., when he was in elementary school. He graduated from Hamilton High School in 1983.
The next year, when Karr was 19, he married a 13-year-old girl from Hamilton, Quientana Shotts, county court records show. Shotts filed for divorce a year later, complaining that she was "fearful for her life and safety." In a response filed with the court, Karr contested her age, saying she was in fact 14.
He was 24 when he married his second wife, Lara, who was 16 and pregnant with twins at the time. According to the San Francisco Chronicle, the babies died at birth less than four months later; they were named Angel and Innocence.
The resumes Karr posted on the Internet describe a globetrotting child educator and caretaker. He said he held teaching jobs in Costa Rica, Honduras, Germany, the Netherlands and Korea. In one resume he posted on the Job 4 Teacher International Recruiting Web site, he said he cared for three German children: "I awoke the children in the morning and gave them breakfast. I helped the children get ready for school and escorted them to the bus. At days end, I made sure the children had their evening bath, then put them to bed and read to them before they went to sleep."
Sketchy career
From 1996 to 2001, his resumes said, he taught at some of the most prestigious schools in the United States. But according to wire service reports, he was removed in 1996 - the year of JonBenet's death - from the substitute-teacher list in the Marion County school system in Alabama after complaints from parents. From 1996 to 1998, he also studied elementary education at Bevill State Community College in Alabama. He left in 1998 without a degree.
He transferred to the University of North Alabama in Florence. In early 2000,Karr was in his final semester, doing a teaching internship at the Kilby Lab School, when questions were raised about his classroom performance. He left without a degree or a teaching license, said Bill Jarnigan, director of university relations.
In July 2000, Karr moved with his family to Petaluma, Calif. A few months later, he got two permits to work as a substitute teacher and as an elementary teacher in Napa Valley Unified School District. For a few months, he worked at several schools in Napa and Sonoma counties until April, when the schools terminated him after reports he had been arrested.
On April 13, 2001, the Sonoma County Sheriff's Department charged him with five misdemeanor counts of possessing child pornography. Karr was jailed at first but released in October under a county "supervised own recognizance" program, according to Roy Rochelle, the Sonoma County Probation Department's deputy chief probation officer.
Under conditions of his release from jail, Karr was ordered to stay away from "parks, schools, day care centers, swimming pools, beaches, theaters, arcades or other places where children congregate." He was prohibited from using computers and working in jobs that dealt with minors.
Before his trial the following January, he disappeared. An arrest warrant was issued for violation of his release.
The school systems, alerted to the charges, terminated him.
In July 2001, after nearly 12 years of marriage, Lara Karr filed a divorce petition. Once her husband was released from jail, she filed for a restraining order to keep him away from her and their sons.
Although he was not violent, wrote his wife, a programmer for a mortgage company, Karr was controlling, forcing her to sever ties to family and friends. She said he had intentionally gotten her pregnant at 16 so he could marry her without parental consent under Georgia laws. "As a 16-year-old bride, I didn't know any better than to give in to his demands," Lara Karr wrote.
Copyright 2018 The Lawrence Journal-World. All rights reserved. This material may not be published, broadcast, rewritten or redistributed. We strive to uphold our values for every story published.