New Orleans — Merck & Co. was stung with two major legal setbacks over the withdrawn painkiller Vioxx on Thursday when a federal jury ordered the drugmaker to pay $51 million to a heart attack victim, and a state judge in New Jersey overturned a November verdict that had favored the company.
In New Orleans, a jury found that Merck "knowingly misrepresented or failed to disclose" information about Vioxx to retired FBI agent Gerald Barnett's doctors. It said Barnett, of Myrtle Beach, S.C., should get $50 million in compensatory damages. And it added $1 million in punitive damages, saying Merck "acted in wanton, malicious, willful or reckless disregard for the plaintiff's rights."
In New Jersey, state Superior Court Judge Carol Higbee ruled evidence uncovered since the November verdict showed that Merck withheld information showing heart attacks could come with use of Vioxx for less than 18 months, said attorney Christopher Seeger.
Seeger represents Frederick "Mike" Humeston, of Boise, Idaho, who had a heart attack in September 2001.
"Merck consistently said throughout the trial that you had to be on Vioxx for 18 months to be at increased risk of a heart attack," Seeger said. "And that was false. They had data that people were having heart attacks within weeks."
Merck said it would appeal the New Orleans verdict and was considering its options in the New Jersey case.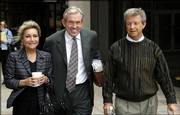 "Both the finding and the amount of damages were totally uncalled for in this case because Merck acted appropriately in providing information to the medical, scientific and regulatory communities in a responsible and appropriate manner," Kenneth C. Frazier, a senior vice president for Merck, said of the New Orleans verdict.
As for the New Jersey case: "We have a significant disagreement with the court's decision because the evidence presented to the jury during the course of a seven-week trial in 2005 showed that Merck behaved appropriately with respect to Vioxx and also that Vioxx was in no way related to Mr. Humeston's heart attack," said Ted Mayer, of Hughes Hubbard & Reed, a member of Merck's national defense team.
Ruling from the bench in Atlantic City, Higbee based her decision on new depositions and an editorial published in the New England Journal of Medicine asserting that Merck withheld "very important heart attack data from the public, and also that they didn't correctly state the data in the trial," Seeger said.
Mayer said the facts behind the editorial "were known to the plaintiff long before the trial, and the jury was aware of the issue because it was presented by the plaintiff's expert."
Mayer also said that the company intended to maintain its policy of trying every Vioxx case.
The lawsuits are among more than 16,000 Vioxx-related suits against Merck in state and federal courts.
Copyright 2018 The Associated Press. All rights reserved. This material may not be published, broadcast, rewritten or redistributed. We strive to uphold our values for every story published.