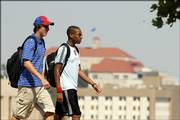 On the roller-coaster ride that is the U.S. News & World Report college rankings, Kansas University has climbed a hill - ranking 39th among public institutions.
That's up from last year's 45th place and on par with the school's 2001 ranking.
KU has inched up and down along the list in recent years, hovering in the range of 39th to 45th place among public institutions. Among public and private universities, KU ranked 88th, up from 97th last year.
The undergraduate engineering program ranked 41st among public universities.
Chancellor Robert Hemenway has long said that he wants KU to be among the top 25 public universities.
"We're pleased with the progress and feel like there's movement in the right direction," he said.
The magazine uses a series of measures to rank universities, including graduation rates, class sizes, alumni giving rates and acceptance rates.
KU made small changes in some areas from the previous year, while in other areas it remained steady:
¢ The peer assessment score, based on the opinions administrators at other institutions have of KU, remained steady at 3.3 out of a possible 5 points.
¢ The freshman retention rate rose by 1 percentage point to 82 percent.
¢ The graduation rate went up 2 percentage points to 59 percent. But it was among the lowest among institutions that were ranked on par with KU on the list of best national universities.
Stacking up
Kansas University went up six notches in the latest U.S. News & World Report rankings of the nation's public universities.
KU was 39th in this year's "America's Best Colleges" rankings. Last year it was 45th. KU has set the goal of being in the top 25 universities by 2010.
Here's how KU has ranked historically:
1998: 30th
1999: 38th
2000: 42nd
2001: 39th
2002: 41st
2003: 44th
2004: 42nd
2005: 45th
2006: 39th
¢ KU's acceptance rate increased from 69 percent to 74 percent. Generally universities with lower acceptance rates are considered more elite.
¢ The percent of faculty who are full-time employees increased 1 percentage point to 98 percent.
¢ KU reported having more classes with fewer than 20 students and fewer big classes with more than 50 students. Those figures were reported as percentages of all classes.
Jason Boots, KU's student body president, said prospective students check out the rankings.
"I think we get good students regardless of what our rankings are," he said.
Critics of college rankings say such lists are misleading and unreliable because the magazine counts on schools to self-report many of the underlying figures.
"There's no way to verify these figures are reliable, and they can be easily laundered," said Lloyd Thacker, executive director of the Education Conservancy.
Some KU faculty members say they don't put much stock in the numbers.
"I don't care about rankings," said longtime English professor Jim Carothers. "It's a game."
Ruth Ann Atchley, associate professor of psychology and president of KU's Faculty Senate, said she believes most faculty look at the rankings with a "good deal of skepticism," and she questions the methods used to come up with the figures.
Atchley said she could conduct a study of which bakery makes the best cookie in town, an effort that would include a personal taste test. She would trust her cookie study as much as she would the U.S. News & World Report's rankings, she said.
"My worry is people put too much stock in something that I see is, at best, messy, and, at worst, poor - pseudoscience," Atchley said.
-->
Copyright 2018 The Lawrence Journal-World. All rights reserved. This material may not be published, broadcast, rewritten or redistributed. We strive to uphold our values for every story published.