Washington — President Bush on Thursday signed new rules to prod companies into shoring up their pension plans and offered strong words for corporate America: "Set aside enough money now."
Before an enthusiastic audience in an office building on the White House grounds, Bush called the legislation "the most sweeping reform of America's pension laws in over 30 years."
"Americans who spend a lifetime working hard should be confident that their pensions will be there when they retire," Bush said. "Some businesses are not putting away the cash they need to fund the pensions they promised to their workers."
The massive legislation reflects the evolution of workers' retirement benefits - the decline in traditional pensions that give retired employees a fixed payment each month and the rise of defined-contribution savings plans that rely on workers to build retirement assets.
It also could save taxpayers from funding a multibillion-dollar bailout of the federal agency that insures pension plans.
"Every American has an interest in seeing this system fixed, whether you're a worker at a company with an underfunded pension or a taxpayer who might get stuck with the bill," Bush said.
Some critics, such as the Pension Rights Center, say the changes do nothing to stop companies from freezing their pensions and, with time, will weaken the pension system.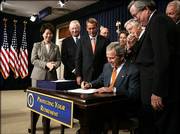 Bush seemed to recognize that, and urged companies to do their part on their own.
With its hundreds of pages, the law seeks to strengthen traditional defined-benefit plans and requires companies to tell workers more about the health of their pension programs. It also nudges workers into putting more money away for their own retirement.
It aims to boost the 30,000 defined-benefit plans run by employers that are now underfunded by an estimated $450 billion. Those plans must reach 100 percent funding, up from the current 90 percent requirement, in seven years.
Lawmakers allowed workers to contribute more to their personal retirement savings accounts, such as IRAs and 401(k)s, in future years.
To the benefit of all taxpayers, lawmakers hope the bill puts the Pension Benefit Guaranty Corp. on more stable financial footing.
Copyright 2017 The Associated Press. All rights reserved. This material may not be published, broadcast, rewritten or redistributed. We strive to uphold our values for every story published.