Rio De Janeiro, Brazil — Longtime Paraguayan dictator Alfredo Stroessner, who was the longest-ruling leader in the Western Hemisphere until he was ousted from power in 1989, died Wednesday in Brasilia at age 93 from complications related to pneumonia.
Stroessner seized power in a 1954 coup and for the next three decades distinguished himself as one of the most fervent anti-communist leaders in the region. He's blamed for the torture, disappearance and murder of hundreds of Paraguayan dissidents and was a key ally of dictatorships in Chile and Argentina as they tracked down their own dissidents across South America.
Yet he's also credited with modernizing his 6.5 million-person country. His 35-year reign saw the construction of hundreds of miles of roads and the completion of the enormous Itaipu dam project, which produces almost all of the country's electricity.
Recent polls show 80 percent of Paraguayans say the country was safer and more stable under Stroessner's iron rule, said Patricia Vargas, a political writer at the Paraguayan newspaper, Ultima Hora. "There isn't much empathy for the ex-president, and he's largely seen as a figure of the past," she said. "But he still has a lot of supporters, and many see his era as a time when life was calmer."
Paraguayan President Nicanor Duarte said he did not plan to honor the former dictator after his death.
Stroessner was the son of an immigrant German father and a Guarani Indian mother. He joined Paraguay's army as a teenager and fought in the Chaco War with Bolivia during the 1930s. He became the commander in chief of Paraguay's army in 1951.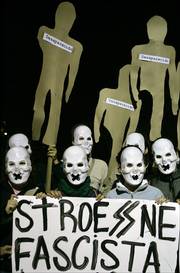 The coup that brought him to power was largely bloodless and he remained in power through a series of fraudulent elections. He also built a cult of personality around himself, plastering his photo on the front pages of newspapers and naming countless streets and public buildings after himself.
With U.S. help, Stroessner also built an effective secret police that was able to control public opposition through fear of arrest and persecution, said Peter Kornbluh, director of the Cuban and Chilean documentation projects at the National Security Archive, a Washington-based think tank devoted to open government.
"Stroessner knew the way to hold onto power seemingly forever was to ally with the United States and right-wing generals in the region and be as repressive as possible," Kornbluh said.
Stroessner made Paraguay a refuge for some Nazi war criminals among 200,000 Germans he sheltered after World War II. He twice denied extradition requests for Dr. Josef Mengele, the infamous "Angel of Death" at Auschwitz. Mengele later fled Nazi hunters to Brazil, where he died under an assumed name.
Stroessner also sheltered fellow right-wing dictators, including Anastasio Somoza, of Nicaragua.
Stroessner's regime was finally toppled in a 1989 coup led by a former ally, Gen. Andres Rodriguez, although many of the dictator's associates served in successive governments, even after civilian rule returned in 1993. Stroessner lived out his remaining years in Brazilian exile.
Copyright 2018 The Lawrence Journal-World. All rights reserved. This material may not be published, broadcast, rewritten or redistributed. We strive to uphold our values for every story published.