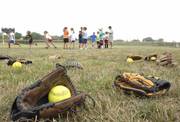 While some girls were trying to rejoin their Phenix club, some were going through the tryout process for the first time.
Most of these first timers were at the 10U tryouts as the Lawrence Phenix organization held tryouts for its 10U, 12U and 14U teams Saturday at Haskell University softball field.
The one common thread with most of the girls at the tryouts seemed to be that they had older sisters with Phenix experience.
Tammey Voights' oldest daughter Jamie was the first in the family to play for the Phenix organization.
The family enjoyed the experience so much that, they made the trip from Baldwin City to go through the tryout process again years later. This time around, it was 8-year-old Morgan Voights and 7-year-old Erin Voights who tried out.
"We thought, this isn't so bad. We might get into this and they wanted to try out," Tammey said.
Although Morgan and Erin Voights are well under the 10U age limit, they kept up with the competition on Saturday thanks to some help at home from their father Mike, who also coached Jamie.
"They get a lot of practice with their dad at home," Tammey said. "Every day, they're doing something out at the little ball field."
This week Mike Voights mainly worked with them on hitting with the aid of a pitching machine. But by the end of the day, Morgan looked like a little pitching machine in her own respect.
In the last evaluation session of the tryout, coaches called all the aspiring pitchers to the mound. Morgan was among them. The session seemed to be exactly what she was waiting for.
"Pitching was my favorite," Morgan Voights said. "Because I was nailing them in there."
Hannah DePriest was another player at the tryouts who had an older sister with Phenix experience.
DePriest also had some experience playing competitive softball with the KC Impact. Those factors, though, didn't seem to keep her from getting some butterflies in her stomach.
"She's nervous, I can tell by the way she's acting, but she's doing alright," Hannah's father James said. "It's a lot of pressure on these little boogers."
Hannah said she went to a class before the tryouts to prepare herself. The class seemed to have paid off because Hannah was pleased with nearly every aspect of her tryout.
But, like Morgan and Erin Voights, Hannah DePriest did most of her preparation at home with her dad.
"We did it all," James said. "We did grounders. She's also trying out for the pitching and hitting. We've done it all."
Not everyone fit the mold of the Voights and DePriests at the tryouts, though.
Kate Stanwix didn't have any Phenix in her heritage. She also didn't do anything special to prepare for the tryouts because her parents decided to let her try out for the Phenix only the night before.
What Kate did have going for her was that her mother Marci was a member of the first Lawrence girls fast pitch team.
"My daughter laughs:she's like, 'Mom, wasn't that ages ago?'" Marci Stanwix said. "Yeah, it was."
Kate, 8, was one of the younger girls trying out for the Phenix. But when a bat was in her hands, no one could really tell.
To evaluate the players' hitting ability, a Phenix coach used a pitching machine to pitch to them. When Stanwix came up, she sprayed line drives in all directions.
Her most notable hit went straight up the middle, toppling the coach's drink that rested beside the pitching machine.
"I knocked over his cup." Kate said as she ran to her mom when she finished batting.
When the tryouts were over, the focus shifted from the players to 10U Phenix coach Gary Tanner.
Roughly 20 girls attended the tryouts, which was too many for a 12-player roster. but not enough for two teams.
For the top 12 players, Tanner said he would contact their parents to make sure they're still committed to the team.
For players who weren't selected to the team, Tanner said he wouldn't cut them. Instead, he's looking at ways to form a second team or find somewhere else for them to play.
"That's what I'm about. To find a place for these girls that have an interest and let them develop," Tanner said. "Today they may not have shown the best, but who knows. In a year or two years, a young girl could just be really good."
Copyright 2018 The Lawrence Journal-World. All rights reserved. This material may not be published, broadcast, rewritten or redistributed. We strive to uphold our values for every story published.