Photo Gallery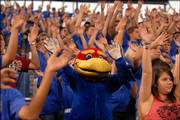 Traditions night
Kansas University's annual Hawk Week has started.
The festivities began with the opening of the residence and scholarship halls Sunday and continued with Traditions Night on Monday. Activities run through Saturday.
For a complete schedule of events, visit www.hawk-week. ku.edu.
Some highlights are:
¢ Dog Days, workouts with students and community members, 6 a.m. and 6 p.m. today and Thursday, Memorial Stadium.
¢ Nontraditional Student Meet and Greet, 4 p.m. - 6 p.m. Wednesday, Hawk's Nest, first floor of the Kansas Union.
¢ Convocation, 8 p.m. Wednesday, Lied Center.
¢ Free concert featuring "The Wailin' Jennys," 7 p.m. Friday, Lied Center lawn.
I'm a Jayhawk
One of the traditions freshmen learned Monday was the KU fight song: Talk about the Sooners, The Cowboys and the Buffs Talk about the Tigers and his tail Talk about those Wildcats And those Cornhuskin' boys But I'm a bird to make 'em weep and wail 'Cause I'm a Jay, Jay, Jay, Jay, Jayhawk Up at Lawrence on the Kaw 'Cause I'm a Jay, Jay, Jay, Jay, Jayhawk With the sis-boom, hip hurrah! Got a bill that's big enough To twist a Tiger's tail, Husk some corn and listen to the Cornhuskers wail 'Cause I'm a Jay, Jay, Jay, Jay, Jayhawk Riding on a Kansas gale.
Copyright 2018 The Lawrence Journal-World. All rights reserved. This material may not be published, broadcast, rewritten or redistributed. We strive to uphold our values for every story published.