Clinton Portis will miss the rest of the preseason and perhaps more. Junior Seau is done altogether.
And Matt Leinart finally is getting started.
Portis, who set a Redskins record with 1,516 yards rushing last season, partially dislocated his left shoulder making a tackle in an exhibition game Sunday. Coach Joe Gibbs said Portis' shoulder was sore and he would begin rehabilitation once the soreness abates.
"We would hope that he would be ready for the opener," Gibbs said Monday.
Portis was angry he was even in the game at Cincinnati.
"I don't know why myself or any other player of my caliber should be playing in the preseason," said Portis, a sling over his left shoulder. "I think for the last four years I've done enough to show the world I'm going to be ready for the season."
The 37-year-old Seau retired from the NFL after 13 seasons as the live-wire leader of his hometown San Diego Chargers and three less-productive years with the Miami Dolphins.
Seau celebrated practically every tackle and sack with a trademark fist pump during a career in which he established himself as one of the NFL's greatest linebackers, making 12 Pro Bowls.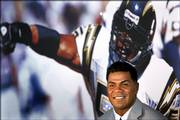 "It's a great day," Seau told a group of beat writers an hour before his farewell news conference at Chargers headquarters. "I don't look at it as a retirement. I look at it as a graduation. I'm graduating to wherever I'm going to go to next. I'm the one that got the true gift, the true gift of understanding what actually transpires between the lines."
Leinart, the 2004 Heisman Trophy winner from Southern California, agreed to terms on a six-year contract with the Arizona Cardinals on Monday night that can bring the rookie up to $51 million.
Leinart, expected to begin training camp today after a two-week absence, will be guaranteed $14 million, said agent Tom Condon.
Earlier Monday, Arizona Cardinals coach Dennis Green criticized Leinart and his representatives for rejecting "a more than generous" offer from the team. Leinart is the only first-round pick unsigned. He was the 10th choice in the first round in April's draft.
Running back Lee Suggs is headed to the New York Jets. Preparing for the possibility of life without Curtis Martin, the Jets acquired Suggs on Monday from the Cleveland Browns for defensive back Derrick Strait.
With the 33-year-old Martin, the NFL's fourth leading career rusher, on the physically-unable-to-perform list because of a lingering knee injury, the Jets were desperate to get another back. Derrick Blaylock and Cedric Houston are 1-2 right now, but neither is the type of player who can shoulder the entire rushing load.
Martin underwent surgery on his right knee in December and has yet to practice. Reports have said he has a "bone on bone" condition in his knee, but Martin continues to rehab. Last week he said he wanted to play this season.
Suggs hasn't been able to stay on the field for the Browns, who selected him in the fourth round of the 2003 draft. At various times, Suggs has been sidelined by injuries to a shoulder, neck, toe, ankle and thumb.
Suggs won a starting job in training camp in 2004, but hurt his neck in the final preseason game and was inactive for the first three games of the regular season. He returned to play in seven games before missing three straight with a toe injury.
Strait was a third-round pick in 2004, but has been a backup in his two NFL seasons. During camp, he moved to safety in the absence of Erik Coleman, out after an appendectomy. Strait had 31 tackles last season, but no intereceptions.
Cowboys
Bill Parcells seems to be tiring of seeing Terrell Owens riding a stationary bicycle.
Owens missed his 12th straight practice Monday when the Cowboys began their final week of workouts in California. He came out a few minutes before the session, carrying cleats and a long-sleeve shirt and took what has become his customary position on a stationary bike.
"I don't know the player very well. I just have to give him the benefit of the doubt right now," Parcells said when asked earlier Monday, before he knew Owens would miss practice. "I don't want to jeopardize him for the season. So right now I am erring on the side of caution."
Colts
Two weeks into training camp, defensive end Dwight Freeney returned to workouts after missing four practices due to a sore shoulder.
The Colts still had no word, however, on the seriousness of an ankle injury wide receiver Brandon Stokley or whether defensive tackle Corey Simon will need surgery on his ailing left knee.
Freeney, a three-time Pro Bowler who had 11 sacks last season, was optimistic after Monday's practice.
"The shoulder feels good," he said. "It just needed a little rest from the beginning of the (last) week, but I'm ready to go. This wouldn't have even been anything if it was during the season. It just happened to be at training camp, and during camp things tend to be cautionary."
Safety Bob Sanders, who had surgery in the spring on his left shoulder, is back at practice.
Dolphins
Dan Wilkinson signed with Miami after two months of negotiations.
The 340-pound defensive tackle, the first overall pick in the 1994 draft, missed more than two weeks of training camp before agreeing to a three-year deal.
"I was in no big rush," said Wilkinson, who spent the last three years with Detroit. "I'm refreshed, I'm back and I'm excited."
Rams
Pro Bowl offensive tackle Orlando Pace left morning practice because of what the team believed to be minor injuries to his right ankle and knee.
Coach Scott Linehan said Pace's leg "kind of got rolled up" during a 9-on-7 drill. Pace appeared to shake it off, but the team scheduled X-rays as a precaution.
"It didn't appear after he walked it off that it was anything real serious, but we're going to take an X-ray, and when I know more about it I'll let you know," Linehan said.
Eagles
Defensive end Jerome McDougle will miss at least three weeks while recovering from two broken ribs. The injury occurred Saturday and flared up Sunday in practice.
It's yet another setback for McDougle, who missed the entire 2005 season after being shot in the abdomen in Miami. He also missed eight games with various injuries in his rookie season, 2003, and missed five games in 2004.
McDougle had been playing well before the injury, which coach Andy Reid said is unrelated to the gunshot. He registered a sack and three tackles in the Eagles' 20-7 preseason win over the Browns on Thursday.
Also, linebacker Greg Richmond will undergo surgery for a herniated disc, which occurred in the Hall of Fame game against Oakland. It's not clear if Richmond will miss the entire season.
Panthers
Carolina coach John Fox and defensive end Mike Rucker missed practice to attend the funeral of safety Mike Minter's mother.
Owner Jerry Richardson, team president Mark Richardson and general manager Marty Hurney also flew to Lawton, Okla., for the service.
49ers
The 49ers acquired receiver Taylor Jacobs from the Redskins for cornerback Mike Rumph, a swap of oft-injured former high draft picks.
Rumph was a first-round selection from the University of Miami in 2002, but he missed most of 2004 with a broken arm and played in only three games in 2005 because of a foot injury.
Jacobs has been a disappointment since the Redskins drafted him in the second round in 2003.
Seahawks
Defensive tackle Russell Davis could miss the next month after tearing the plantar fascia in his right foot, and center Robbie Tobeck won't play in Sunday's preseason game at Indianapolis after having minor surgery to remove bone chips from his left elbow.
Copyright 2018 The Associated Press. All rights reserved. This material may not be published, broadcast, rewritten or redistributed. We strive to uphold our values for every story published.