Robert and Molly Krause already have the kitchen, garden room and high-end clientele.
Now they need the city's permission to resume their reservation-only, fine-dining business once again at their east Lawrence home, 917 Del.
"We want to stay in Lawrence," Molly Krause said. "That's our main objective. That's what we're trying to do."
To do so, the Krauses will need to negotiate a City Hall bureaucracy that they've run afoul of previously, and a neighborhood whose residents already are facing other proposed land-use changes.
Last summer city inspectors shut down the couple's Krause Dining operation at the Delaware Street house, saying it was a commercial business operating in a residential district.
Now, after more than a year of trying to make other arrangements, the Krauses are asking the city to grant their home the zoning designation - Inner-Neighborhood Commercial - that they need to serve up meals 30 at a time as often as seven days a week.
The formal process starts at 6:30 p.m. Thursday, when the Krauses' plan faces review from the Historic Resources Commission at City Hall, Sixth and Massachusetts streets. The plan goes to the Lawrence-Douglas County Planning Commission on Aug. 23.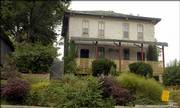 "We're a small-town, family-based business that is unique to Lawrence, and we really hope to stay in Lawrence," Molly Krause said. "We feel like we have a chance, or we wouldn't be doing this. We have wonderful customer support, so we feel real good about that."
Others aren't as welcoming.
"I have qualms about the system rewarding illegal behavior, which is basically what this is," said Janet Good, president of the East Lawrence Neighborhood Assn. "He got caught, or he would still be doing this illegally. I have issues with the whole thing."
But the neighborhood itself officially has no issue with the project, at least for now. In May, members attending an association business meeting voted not to oppose the Krauses' application for rezoning.
That soon could change.
The association's board has called an emergency meeting for Wednesday night, to discuss the Krause plan in light of concerns about another project in the neighborhood: Bo Harris' plan to redevelop industrial buildings in the 900 block of Pennsylvania into shops, offices and residences.
"He's got a great set up," Good said of Robert Krause. "He lives there. He works there. Everybody would do that if they could, but it's not appropriate for all jobs. And this property is not zoned for this. :
"A lot of people feel we need to hold the line - and not allow any more nonresidential zoning - and protect the single-family residential character of the neighborhood."
The Krauses, meanwhile, continue to live in the home that has a history of its own. The place was built in the late 1800s and served as a boarding house for years.
Dan Rockhill, an architecture professor at Kansas University, renovated the home. The Krauses bought the place in 2000, when Robert Krause relocated to Lawrence after working in fine-dining restaurants in San Francisco and decided to open his own catering operation.
In 2002, the Krauses hired Rockhill to do more renovations and build a garden room in the backyard. The $200,000 project allowed the Krauses to accommodate up to 30 diners a night, each spending an average of $100 a plate for food and drink.
City inspectors ordered the place closed after an inspection revealed the "commercial" nature of the business. The Krauses then relocated temporarily to 811 N.H., where their yearlong lease expired June 30. Other plans to open a commercial restaurant - first in Harris' redevelopment project, then to revamp a vacant building at 1040 Vt. - never materialized.
So the Krauses are back trying to work from home, with no specific options lined up should the Delaware Street plan fizzle out, too.
"We don't really have a clear plan of what's next, honestly," Molly Krause said. "It's a great structure, and it's unique, too. It's a space that we really want to hang on to."
Copyright 2018 The Lawrence Journal-World. All rights reserved. This material may not be published, broadcast, rewritten or redistributed. We strive to uphold our values for every story published.