Chicago — There was no letdown for the White Sox. Just another homer from Jim Thome, a big inning with timely hits and their fifth straight victory.
After a weekend sweep of the Detroit Tigers - the team with the best record in the majors - the White Sox kept rolling with a victory over the one with the worst, beating the Kansas City Royals, 12-2, Monday night behind an eight-run fourth inning.
"I think a lot of the weekend carried over," said Thome, whose 36th homer capped the eight-run outburst against Mark Redman. "You could see the momentum. The excitement and enthusiasm we have was there."
The defending World Series champions have won six of seven and 12 of their last 17. They trail Detroit, which beat Boston on Monday, by 5 1â2 games in the AL Central and lead the wild card by three games.
"We know what is at stake. We know how we have to play to try to get where we want to go," said A.J. Pierzynski, whose two-run single was a key in the fourth inning.
"There is not enough time for letdowns. There are 40-some games left, and we need to try to win every single game."
Jon Garland (13-4), who had an eight-game winning streak snapped in his previous outing against the Yankees, allowed seven hits and a run in seven innings and benefited from the run support. He is now 13-5 in his career against Kansas City, the most victories he has against any opponent.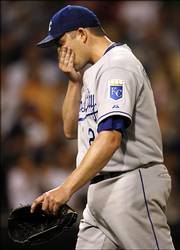 Thome started the fourth against Redman (7-7) with a single and then drove him out with a two-run homer later in the inning. The White Sox sent 11 batters to the plate.
"We were fortunate to get some pitches to hit and capitalized," Thome said. "He knows how to pitch. He changes speeds very well. Some of the balls he left in the middle of the plate, we hit pretty hard. It worked out."
After Thome's leadoff hit, Paul Konerko singled before Redman hit Jermaine Dye to load the bases with no outs.
Pierzynski sliced a two-run single to left, and Joe Crede followed with a two-run double to left-center with Pierzynski scoring all the way from first as Royals shortstop Angel Berroa double-clutched on the relay throw. Crede moved up on a fly ball and scored when Brian Anderson blooped a single to right over the drawn-in infield to make it 5-0. Anderson advanced on a slow roller and scored on Tadahito Iguchi's two-out single to center.
Thome hit a towering fly to left, making it 8-0 and finishing Redman, who made the All-Star team this season. Redman, winless in his last four starts, gave up 10 hits and eight runs in 32â3 innings.
"I fell behind, and they hit some good pitches," Redman said. "You have to stop the bleeding. You have some hitters' parks and some pitchers' parks, and you have to adjust to the playing field and make some pitches."
Anderson was 3-for-3, including his seventh homer off reliever Joel Peralta in the sixth for a 9-0 lead. Chicago finished with 16 hits, and there was no emotional letdown after taking two of three from the Yankees and then sweeping three from the Tigers.
Copyright 2018 The Associated Press. All rights reserved. This material may not be published, broadcast, rewritten or redistributed. We strive to uphold our values for every story published.