Taylor McKee wasn't going to make it here.
Too much business to attend to in Kansas City, too many responsibilities.
But then at happy hour next week he would have to listen to his friends talk about wandering into the landscape without him. He would have to hear them tell about the sights he hadn't seen. He would be left out of the inside jokes that come from roads traveled together.
"That would have been horrible," said the 31-year-old.
So at the last moment, McKee packed his gear into saddle bags, left a note on the back of an envelope telling his girlfriend that he would be gone for a week and hit the road.
There is no escaping the rough side of the Sturgis Motorcycle Rally. Much drinking. Caveman sexism. Occasional violence. The overrunning of a town that has come to tolerate the rally by cashing in on the invasion.
But at its heart, the Sturgis Motorcycle Rally is still about riding.
The 66th yearly rally will come to a close today. But by sundown tonight, most of the bikers will have already put the Black Hills in their rearview mirrors.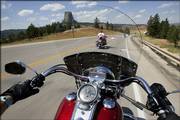 'A sensual thing'
On their last day, McKee and his friends - an informal club of mostly white-collar types connected though Kansas City development circles - took a final leisurely ride through countryside.
It was a sensual thing. They left Sturgis, S.D., at midmorning to meet some more friends a few miles away in Spearfish. A stop for cold sodas and cigarettes, time to call into the office or punch up messages from BlackBerries.
Then down Interstate 90. The road is straight and flat, without much scenery. An ice chest had fallen off someone's truck and left the gang with obstacle course of Bud Light cans to dodge. But it got them a stretch of winding two-lane pavements that would take them to Devil's Tower.
Theirs is a world removed from the cars and trucks along the road. No air-conditioned blast from the dash or Top 40 DJ yelling on the stereo.
Instead they had the wind on their faces and the midday sun warming their backs. Riding a motorcycle proved just enough effort to justify mint chocolate chip ice cream in waffle cones at Sundance, Wyo. It gave a reason to stand under a misting hose in the Devil's Tower parking lot.
Then quickly back over I-90 to get to U.S. 14 back in South Dakota and the surprises waiting for them in the bends on the road to Lead and Deadwood.
Along the way, they luxuriated on the powerful hum of their big-engine bikes. They sucked in the scent of the conifers and saw deciduous leaves quiver in the summer breeze.
To the side of the road, sunlight danced off Iron Creek. Sugar Loaf Mountain blocked out the later afternoon sun, except when a switchback here and there revealed the light piercing through the trees.
'Just gliding'
Finally they tooled into Deadwood, an old mining town that now is filled with small casinos. Their bellies ached for dinner and talk full of all they had seen, smelled and felt along the road.
"Another great day of driving lead, Roger. That was a great ride, a great ride," McKee said. "I was just gliding back there the whole time."
With an earnestness men don't often share, Roger Garner said the pleasure was all his.
"No problem," he said. "It's always fun to ride with good people."
It was his 52nd birthday, one that would be toasted much through the night with genuineness that clearly warmed him.
Jennifer Zaudke had been riding on the back of Ray Braswell's monster Triumph motorcycle at the back of the pack.
"I saw this little mouse just standing at the side of the road," she said. "It was the most interesting thing. ... You just sense so much more on a bike."
She and Dionna Farbstein had been on the back of bikes during the trip and had caught the bug. They were talking about learning to ride and buying their own bikes.
For Braswell, it was his first time in Sturgis. He got his first tattoo - the sign of the Chi, because he's a Taoist - at the Full Throttle Saloon.
"Once you get a taste of the riding," he said, "you're hooked."
Near the front of the Kansas City pack rode Ted Lodijensky. For all the bad-boy bluster, he told his friends that the biker bonhomie wins him over.
"I get more courtesy at a bike rally than I do in my every day life," he said.
"Yeah," said Zaudke. "That's because in your everyday life you're such an (expletive deleted)."
So it went into an evening of traded insults and off-color jokes, adults enjoying each other's company, and the road.
Copyright 2018 The Lawrence Journal-World. All rights reserved. This material may not be published, broadcast, rewritten or redistributed. We strive to uphold our values for every story published.