SOUTH BEND, IND. — College seems like a blur to Jerry Rice.
"It went by so fast. You're so focused," Rice said Saturday. "I wish I could go back and do it all over again."
That was a common feeling among the 20 men being enshrined into the College Football Hall of Fame. Former Alabama linebacker Cornelius Bennett, former Pittsburgh offensive tackle Mark May and Oklahoma running back Joe Washington all said they would love to live those days again.
"The relationships you build then stick with you the rest of your life."
Even fullback Roosevelt Leaks, who faced some obstacles in becoming the first black All-America football player at Texas, said he would gladly do it again, even if it might have been a little more difficult for him.
"We all travel different roads. Whether it was a tougher road or not, there are always obstacles on the road. You keep moving forward," he said. "The things that deter you, they usually make you better."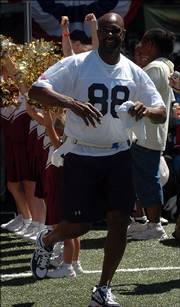 May, now a college football analyst for ESPN, said the thing he remembered best from college was the friendships.
"The camaraderie you built with your teammates was special. The relationships you build then stick with you the rest of your life," he said.
Others being inducted into the hall Saturday included USC tailback Anthony Davis, Heisman Trophy-winning quarterback John Huarte of Notre Dame, Stanford defensive tackle Paul Wiggin and Michigan defensive back Tom Curtis, along with former Auburn coach Pat Dye and former West Virginia coach Don Nehlen.
The men being honored were in a parade in the morning, then held a youth football clinic and a flag football game in the afternoon. Keith Dorney, an offensive tackle at Penn State, was the game's MVP with two TD catches and three catches overall for 40 yards.
Much of the talk Saturday centered on how special college was.
But Rice said not every thing in college was fun and games. Going to a small school such as Mississippi Valley State forced him to work harder to reach his goals.
"It molded me into the player I became," he said.
Copyright 2018 The Associated Press. All rights reserved. This material may not be published, broadcast, rewritten or redistributed. We strive to uphold our values for every story published.