Baghdad, Iraq — Police found a dozen bodies trapped in a grate in the Tigris River, and a roadside bomb killed two U.S. soldiers on a foot patrol south of Baghdad Saturday as nearly 50 violent deaths were reported across Iraq.
Prime Minister Nouri al-Maliki banned a Kurdish extremist party from operating in Baghdad in a move seen largely as a gesture to Turkey, which had threatened to send troops across the border to destroy the group's bases in northern Iraq.
Also Saturday, a state commission said nearly 40 top officials of the past two governments have been ordered to appear in court to answer allegations of corruption. They include former ministers of defense, labor and electricity, the commission said.
The 12 bodies were found in Suwayrah, 25 miles south of Baghdad, at one of a series of metal grates fixed in the river to block debris, Mamoun al-Rubaie of the Kut city morgue said.
All were men between 35 and 45 years old and had been bound, blindfolded and shot in the head or chest, al-Rubaie said. They appeared to have been the victims of sectarian death squads that operate in the religiously mixed communities in the Baghdad area.
Police also found 15 other bullet-riddled bodies of men who had been handcuffed and blindfolded throughout the Baghdad area, police Lt. Mohammed Khayoun said.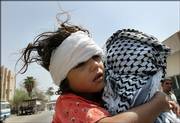 Another 21 people were killed Saturday, mostly in Baghdad but also in Hillah, Mosul and Basra.
The roiling violence, especially between Sunni and Shiite Muslims in the Baghdad area, has alarmed U.S. commanders, prompting them to order nearly 12,000 more American and Iraqi soldiers into the capital.
The United States currently has about 32,400 troops in Baghdad and areas south of the capital - of which about 13,500 are in the city proper, Maj. Gen. James Thurman said Saturday.
U.S. and Iraqi officials have said the reinforcements will focus on about four neighborhoods where Sunni residents do not trust the Shiite-dominated Iraqi security forces.
Nevertheless, Gen. Peter Pace, chairman of the Joint Chiefs of Staff, said he would not rule out significant U.S. troop reductions this year. Pace, who arrived in Baghdad on Saturday, said such a decision would depend on improvements in the security situation and would come after consultations with U.S. commanders in Iraq.
Copyright 2018 The Associated Press. All rights reserved. This material may not be published, broadcast, rewritten or redistributed. We strive to uphold our values for every story published.