Inconvenience. It's the price of progress.
That's what Lawrence school leaders are saying as they prepare for a new school year, with the inescapable traffic jams and parking problems brought on by the district's $54 million bond-financed construction bonanza.
"There will be some inconveniences," Lawrence High Principal Steve Nilhas said. "It's the price of progress. We're grateful for progress."
Crews are working on all of the district's junior high and high schools as well as Broken Arrow School.
Portables line the drive in front of West Junior High School, where a $6 million project to build 13 new classrooms and a new gymnasium is under way.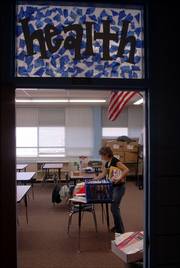 Those trailers - blocking out what was once a busy parking lot and student drop-off zone - will likely cause one of the bigger disruptions in town.
They wiped out the more than 30 spaces in the lot and will force drivers into a one-lane path at the front of the building.
"It's not going to be easy - that's for sure," West business teacher Janet Rovenstine said. "We have a positive attitude, and hopefully parents will, too."
The school will set up a temporary gravel lot to the west of the building near the tennis courts, and there will be street parking near the school. But there's no doubt that there will be more congestion than normal.
Principal Myron Melton said parents should consider starting a car pool. And, with only one lane in front, drivers should be cognizant of others in line for pick up and drop offs, he said.
"Anyone who stops or waits for a child is going to create a backlog," Melton said. "Early on in the year, we're going to try to have someone to keep that moving."
Construction on both the west and east ends of the building will limit outside access and force everyone to change their traffic patterns a bit, Melton said.
Students at West aren't alone. Across town at Central Junior High School, crews are continuing work on an estimated $4 million project that includes new classrooms and a gym.
The work has pretty much cut off use of the north side of the building and forced the school to rearrange its traffic patterns.
"We're not really using the north side of our building at all," Central principal Frank Harwood said.
Automobiles will move counterclockwise around the building. Parents will be directed to 15th Street for drop off and pick up, with buses moving along Massachusetts Street.
"It'll be confusing for the first couple days, and then we'll make it work," Harwood said.
The construction will take up the parking area on the north side of the building, sending drivers to neighborhood spaces to park. The district is talking with the city about the possibility of using a lot along Massachusetts across from the school, but no decisions have been made.
"When it's all done, it will be wonderful," Harwood said. "Certainly there are challenges while we're doing the work."
Photo Gallery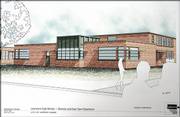 School expansion drafts
Lawrence High School is in the midst of a $3.6 million project that includes new science labs, a new east gym entrance and locker room renovations.
The boy's locker rooms will be housed in a separate maintenance building.
"Most student athletes and participants of physical education will notice a change in the locker room situation," said Tom Bracciano, operations and facility planning director.
Parents of Broken Arrow students will notice a new pick-up/drop-off setup. Southwest Junior High's new cafeteria will open a month or two after school starts.
Crews also are updating the entrance to New York School. And at South Junior High School, students will be able to watch the new school go up in the backyard.
More about the construction
Copyright 2018 The Lawrence Journal-World. All rights reserved. This material may not be published, broadcast, rewritten or redistributed. We strive to uphold our values for every story published.