London — British and U.S. officials warned Saturday against complacency after the arrest of suspects in the plot to blow up passenger jets bound for the United States, and said the search continues for more people who might have been involved.
"No one should be under any illusion that the threat ended with the recent arrests. It didn't. The threat, as well as our efforts, is ongoing," British Home Secretary John Reid said.
One U.S. intelligence official said that in addition to looking for more suspects, authorities were investigating whether a similar, parallel plot might have been in the works.
"Are there concerns that there are more conspirators out there who wish to do us harm? Yes. That has been and continues to be the case; either people connected with this plot or who may have been trying to do something in parallel," said the official, who spoke on condition of anonymity because of the sensitivity of the ongoing investigation.
The U.S. official also confirmed that an alleged plotter in Pakistan sent word to conspirators in Britain, urging them to launch their attacks as soon as possible, apparently after one person was detained in Pakistan.
Law enforcement authorities continued their search for links among 23 detainees, many of them British natives of Pakistani origin, and at least 11 others, including the brother of one of the suspects, being held in Pakistan.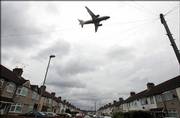 All are suspected of participating in a plot, allegedly nearing its final days, to smuggle liquid explosives on board U.S.-bound airliners operating out of Heathrow. The Times of London reported Saturday that police were looking at possible links between the detainees and the perpetrators of a series of coordinated bombings on the London transport system in July 2005 that killed 52 and injured 700.
Some of the people in custody appear to have visited Pakistan last year at the same time as two of the London bombers, the Times reported.
The U.S. official discounted published reports that the alleged plotters had selected a specific date for the attacks, saying that intelligence suggested that the date, specific flights and other details were still in flux when the plot was disrupted.
With no new arrests and few revelations about the plot, criticism in Britain began focusing Saturday on Prime Minister Tony Blair's Middle East policy. Muslim leaders singled out the British government's occupation of Iraq and Blair's failure to call for an immediate end to the killing in Lebanon.
Copyright 2018 The Lawrence Journal-World. All rights reserved. This material may not be published, broadcast, rewritten or redistributed. We strive to uphold our values for every story published.