Behind the prickly public persona and poison pen, the author of the crudest, rudest and most politically incorrect new book on the market is actually a pretty laid-back, low-key, mild-mannered person.
No, not Ann Coulter. The writer known only as Maddox - whose testosterone-fueled satire on the merits of masculinity, "The Alphabet of Manliness," shot to No. 1 on Amazon.com three months before it hit stores in June - is hardly the ranting, raving misogynist one would expect.
Especially when he's also the creator of "The Best Page in the Universe," (www.maddox.xmission.com/) the cult Web site on which Maddox goes into outrageous, offensive and over-the-top riffs on whatever sticks in his craw. Which is just about everything pertaining to pop culture and society in general.
But Maddox says writing "Alphabet" was simply a way to have some fun while departing from his usual "angry" diatribes on the "Best Page" site.
"The publisher wanted me to do a book that would be an extension of my Web site - or 200 pages of totally new rants," says Maddox.
"But this isn't a typical 'man's' book about sports and guns and power tools. I always wanted to do a children's book, but people tell me I shouldn't because I'd be terrible at it, which I guess stems from me hating kids," he adds.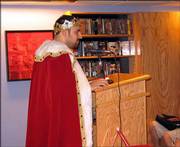 "So this is kind of a parody of a reference book and a children's book combined."
Except that kids probably shouldn't be allowed anywhere near it.
"The Alphabet of Manliness," an A-Z guide to all things manly and macho, is divided into 26 easy-to-read, illustrated chapters such as "A Is for A--kicking," "C Is for Copping a Feel," "F Is for Female Wrestling," "K Is for Knockers" and "U Is for Urinal Etiquette" (Rule 1: Don't speak unless spoken to, and even then, don't speak).
"Alphabet" is now in its 10th week on The New York Times' How-to, Advice and Miscellaneous list - it's currently No. 5 - thanks mostly to Maddox's huge online fan base.
A Salt Lake City native whose real name is George Ouzounian, Maddox was a programmer for a telemarketing company, but quit his job about five years ago after his Web site took off.
Though women bear the brunt of Maddox's crude, often laugh-out-loud humor, the 28-year-old author says there's no malice intended - females make up almost half of the 1 million unique visitors who click on his site every month.
"Women who come on the Web site and walk away from it unoffended are usually pretty sharp," says Maddox.
"They get it. They understand that a lot of what's being said is tongue-in-cheek, and that I'm just kidding around. The same is true of the book."
Besides, he has a close relationship with a censor who keeps any offensive humor in check.
"I have a girlfriend who's just overwhelmingly honest," says Maddox. "I don't think she finds a lot of what I say funny."
Copyright 2018 The Lawrence Journal-World. All rights reserved. This material may not be published, broadcast, rewritten or redistributed. We strive to uphold our values for every story published.