Laura Korb and Brad Reischman, both of Tonganoxie, found love in the same place that their parents did: high school.
Laura's parents, Allen and Debbie Korb, met as students at Tonganoxie High School. Brad's parents, Rick and Gloria Reischman, also began dating in high school. Rick went to Tonganoxie, while Gloria attended nearby McLouth.
And just like their parents, Laura and Brad married. Their wedding ceremony was July 15 at St. John the Evangelist Catholic Church in Lawrence.
Although they had attended the same Tonganoxie schools since third grade, they didn't take notice of each other until their sophomore year in FFA class. Laura made the first move by calling Brad, which led to their first date: dinner and a movie in Lawrence.
"We went to see 'Space Cowboys,'" Laura said. "We didn't like it, so we left early."
That date led to others. Besides movie-and-dinner dates, they also cheered each other on in sports and went to a lot of school dances.
After graduation in 2003, they both attended Johnson County Community College, sharing rides to school. Then, she transferred to Washburn University during her sophomore year to pursue a career as a physical therapy assistant.
Photo Gallery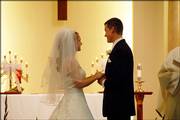 Couples - Korb and Reischman wedding
Brad said Laura was eager to get married while they were in college. So he went "boot shopping with his mother" - at least that's what he told Laura when they actually went shopping for an engagement ring.
Brad planned to propose to Laura during a romantic horse carriage ride on an evening in December 2004 on the Plaza in Kansas City, Mo. He had asked Laura's parents for permission to marry her, and they knew about his plans that evening.
But Laura wasn't cooperating. When he mentioned taking a carriage ride, Laura said they didn't need to spend money on a ride when they had plenty of friends with horses and could take a ride for free anytime that they wanted.
Then, he decided to try proposing near a fountain. But Laura was too busy window shopping and taking in the holiday lights; she didn't want to pause on a bench. So, they went to Chili's Grill and Bar for dinner.
"I thought about proposing in the restaurant, but I didn't think that would be a good idea," he said. "She isn't much for public attention."
With time running out and Laura's parents expecting a ring on her finger when she returned home, Brad decided to pop the question in his truck while sitting in the restaurant's parking lot.
Since that moment, the couple have been doing anything but sitting. They planned a wedding, worked and earned college degrees in May. She graduated from Washburn's physical therapy assistant program, and he completed the HVAC program at JCCC. They also bought a fixer-upper house in rural Tonganoxie.
Laura said Brad had done a lot of work on their home, such as plumbing, wiring and framing.
She moved in a few days before the wedding, and then he moved in after their wedding day. Their golden retriever, Rascal, who had been staying at his parents' home, also moved in.
Now, the 22-year-olds are settling into married life and hope to continue following in the footsteps of their parents, both sets of whom have been married 27 years.
Copyright 2018 The Lawrence Journal-World. All rights reserved. This material may not be published, broadcast, rewritten or redistributed. We strive to uphold our values for every story published.