Cashiers, N.C. — Facing a strong re-election challenge from Democrat Heath Shuler, veteran Republican Rep. Charles Taylor is going after a candidate who gets an "F" from the National Rifle Assn. and a perfect score from a leading abortion-rights group.
But that's not Shuler, a former NFL quarterback who hopes his pro-gun and anti-abortion positions appeal to swing voters and social conservatives alike in this mountainous district in western North Carolina.
Instead, Taylor's target this summer is Minority Leader Nancy Pelosi, the California congresswoman who has emerged as a "boogey-woman" of sorts for Republicans campaigning this year on the idea that Democrats can't be trusted with control of the House.
"Rookie Heath Shuler is following the playbook of San Francisco liberal Nancy Pelosi," an announcer intones as the noise of a stadium crowd and marching band plays in the background of a 60-second Taylor radio spot. "The Pelosi game plan: Elect Heath Shuler and others like him, and take over Congress with the votes of illegal immigrants."
These rugged, rural mountains, which couldn't be more different from Pelosi's San Francisco, aren't the only place Republicans want to make the specter of a Democratic House a key campaign issue.
¢ In South Carolina's 5th District, state Rep. Ralph Norman is challenging 12-term Democratic incumbent John Spratt and has repeatedly linked Spratt to Pelosi, saying voters should elect Norman if they want the GOP to maintain control of the House.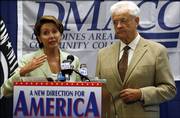 ¢ Before announcing in April that he would leave Congress, former House Majority Leader Tom DeLay criticized the Democrat lined up to run against him as a tool of "liberal activists" like Pelosi, Barbra Streisand and financier George Soros.
¢ House Republicans recently released a document claiming that a Democratic House takeover would lead to committee chairmanships for several prominent liberal Democrats, including California's Henry Waxman, New York's Charles Rangel and Michigan's John Conyers Jr.
"Nancy Pelosi is one of the most stridently liberal politicians in recent memory, and insofar as candidates can draw a contrast between their record and Pelosi's record, (she) could emerge as a campaign issue," said Jonathan Collegio, a spokesman for the National Republican Congressional Committee.
For Taylor, it is so far the only issue the eight-term incumbent is talking about. It's been years since the timber and banking magnate faced a tough re-election challenge. He has rarely been pushed hard enough to have to campaign actively and almost never advertises until the final weeks of a race. But with some polls showing Shuler running ahead of the incumbent and the race considered a toss up, Taylor jumped into the campaign this summer with the spot linking Shuler to Pelosi.
Shuler's campaign calls Taylor's ad dishonest, noting that Shuler has repeatedly said he opposes illegal immigration and supports effort to strengthen the nation's borders.
"I'm a Democrat," Shuler said. "I feel that (Minority) Leader Pelosi and I certainly have different viewpoints on the social issues, but I feel like as a whole ... I'm a Democrat, kind of the old, Southern-style Democrat, certainly a more moderate-style Democrat."
Copyright 2018 The Associated Press. All rights reserved. This material may not be published, broadcast, rewritten or redistributed. We strive to uphold our values for every story published.