Cleveland — Travis Hafner's 100th RBI of the season came in an important spot for the Cleveland Indians.
Hafner drove home the winning run in both games of a doubleheader sweep of the Kansas City Royals on Saturday, winning the first game 5-4 with a two-out RBI single in the ninth inning, and the second 6-5 with a run-scoring double in the eighth.
"Hafner just keeps getting big hits," Indians manager Eric Wedge said. "He's pretty special."
Hafner's second game-winning hit gave him 100 RBIs for the third consecutive season.
"About the only goals I set are getting my team to the playoffs and driving in 100," he said. "Driving in runs means a lot to me."
The Indians have won five in a row for the first time since April. The Royals have lost 10 straight games at Jacobs Field - including three in a row in Cleveland's final at-bat.
"It was a long day," Royals manager Buddy Bell said. "I feel like I'm repeating myself. The same outcomes all happening the same way."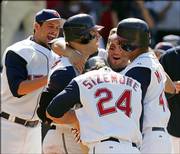 Ryan Shealy had three hits and tied a career high with four RBIs in the second game for Kansas City. He scored on a single by Joey Gathright in the eighth for a 5-4 lead.
Grady Sizemore tied it in the bottom half with his 18th homer, off Jimmy Gobble (3-4). Jason Michaels then reached on an error by second baseman Mark Grudzielanek and scored on Hafner's double to right-center.
Brian Sikorski (1-0) worked the final 11â3 innings for the win. He retired Shealy on a popup with a runner on second to end it.
"It felt good to be in there in that situation," Sikorski said after his first AL win since Aug. 16, 2000 - when he was with Texas. He then spent five years pitching in Japan before signing with San Diego last winter and being traded to Cleveland last month.
Cleveland's Jeremy Guthrie, recalled from Triple-A Buffalo between games to make his first career start, allowed four runs and five hits over 42â3 innings. The right-hander, who had made 17 relief appearances for the Indians over parts of three seasons, struck out five and walked six.
Copyright 2018 The Associated Press. All rights reserved. This material may not be published, broadcast, rewritten or redistributed. We strive to uphold our values for every story published.