Dancing is one of the newest crazes on television. Adults and children show their dancing skills and compete for prizes. But dancing has been popular for a long time. About 1920, the famous Steiff company of Germany made dancing bears. The bears were dressed like humans and stitched together to make a couple. One couple was a 14-inch golden mohair boy and a 13-inch white mohair girl. It must have been hard to make the teddy bears dance, but they seem to have special charm, because they sold for $20,900 at a recent auction.
Q: In the early 1980s, I paid about $600 for a 45-piece set of Block China dinnerware. The set includes service for eight plus some serving pieces. The design on the white dishes is six colored lines with triangles near one end. The mark is "Harmony, Block, Vista Alegre, Portugal, Shape by Gerald Gulotta, Sextet, by Jack Prince." Did Block go out of business? If it did, have my dishes gone up in value?
A: Block China is now a brand owned by Salton Inc. of Lake Forest, Ill. Vista Alegre is a Portuguese company that might have partnered with Block to manufacture dishes. The pattern of your dishes, Sextet, was part of Block's Harmony line and was made from 1982 to 1986. The pattern was designed by Jack Prince, the shape by Gerald Gulotta. Many dishes in the pattern are for sale at china replacement services. Prices are slightly higher than what you originally paid.
Q: I work in a casino halfway between Las Vegas and the Hoover Dam. The building we're in dates from the 1930s, when the dam was constructed. There's a walk-in safe in the casino that's painted with the words, "Hall's Safe & Lock Co., Cincinnati & San Francisco." The lock mechanism lists the patent dates 5/5/1866 and 6/7/1870 and the number 26377. I'm hoping you can tell me something about the history of the safe.
A: Joseph L. Hall founded Hall's Safe & Lock Co. in Cincinnati in 1848. By the 1870s, the company was making up to 20 safes a day. The number on your vault's original lock is its patent number, issued in 1859. Hall's Safe & Lock Co. was one of three firms that in the 1890s formed Herring-Hall-Marvin Safe Co. So the safe in your casino was made between 1870 and 1892, decades before the 1930s. It must have been moved into your building in the 1930s or later.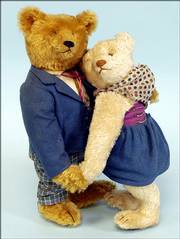 Q: I have a Kentucky Derby glass from 1938. My neighbor gave it to me in the late 1940s. The glass is clear with the printed words "Kentucky Derby 1938" in white letters on one side and a diagonal white Buick logo on the other. The word "Buick" is in a handwritten style across a white and clear rectangle. I understand Kentucky Derby glasses are valuable. What is mine worth?
A: Your glass is not an official Kentucky Derby mint julep souvenir glass. Official glasses, made by Libbey, were introduced in 1939, although some say the idea was tested with a water glass in 1938. The test glass was not decorated like yours, however. It's inscribed "1938 Churchill Downs, 64th Kentucky Derby." That glass sells for more than $3,000 today. Your glass was probably a promotional item made for a Buick dealership in Lexington, Ky. The Buick logo on your glass was introduced in 1913 and was used for decades. Your glass might sell for a few dollars.
Q: I have 39 tiny national flags I was told were inserted in cigarette packs ages ago. The flags are woven, not printed, on a sheer silk fabric. Each one is 2 inches high by about 1 1/2 inches wide with a black background. Each flag is shown on a pole. The countries represented range from Australia to Salvador to Jugo-Slavia. What are the flags worth?
A: You have a collection of tobacco "silks," premiums inserted in cigarette packs between about 1912 and the early 1920s. They followed upon the heels of collectible tobacco cards, including the earliest baseball cards. The silks were often collected by women smokers, who sewed them together to decorate pillow tops, tablecloths and quilts. There were many different styles and types of silks, including several styles of woven or printed national flags. Your silk flags would sell for about 50 cents to $1 apiece. You might get more if you sell the whole set at once.
Q: One of my oldest porcelain dishes is marked with just the initials "BB" on the bottom. "Kovels' Dictionary of Marks" lists it as a 19th-century German mark, but I wondered if you can tell me more.
A: The mark is the earliest used by B. Bloch & Co., founded in Eichwald, Germany, in 1871. Bloch manufactured earthenware and porcelain dinnerware, household items and decorative pieces. The company's name changed to Eichwalder Porcelain and Stove Factory Bloch & Co. shortly after World War I. It remained in business until World War II.
Tip
To remove gum, put an ice cube in a zip-up plastic bag, then set it on the gum. When the gum hardens, hit it with a hammer and it will break off.
Current prices
Current prices are recorded from antiques shows, flea markets, sales and auctions throughout the United States. Prices vary in different locations because of local economic conditions.
¢ Duncan Miller water goblet, Canterbury No. 115, chartreuse, 6 inches, 9 oz., $25.
¢ "50 Ways of Serving Cream of Wheat" cookbook, 1924, 32 pages, $30.
¢ Lenox dinner plate, Charmaine pattern, ivory and blue, silver band, 10 1/2 inches, $40.
¢ Movie Mirror Magazine, February 1957, Vol. 1, No. 5, cover features Elvis Presley, James Dean, Doris Day, Debbie Reynolds, Sal Mineo and Natalie Wood, 74 pages, $55.
¢ Donald Duck with wheelbarrow ramp walker, blue outfit, Marx, 1950s, $60.
¢ Ginny doll, hard vinyl, poseable, blond hair, blue outfit, matching hat, blue shoes, brush and comb, 1988, Vogue, 8 inches, $75.
¢ 18-Wheeler lunchbox with thermos, metal, front shows inside of truck cab, other shows truck and cop at weigh station, 1978, Aladdin Industries, $90.
¢ Penny rug, wool, brown, navy and olive-green felt circles, sewn on plaid ground, 1900s, 36 x 31 inches, $310.
¢ Joe DiMaggio model baseball shoes, facsimile DiMaggio signature inside, tag with photo, original box, unused, size 9, $400.
¢ Comb-back Windsor armchair, scrolled crest rail, 7-spindle backrest, bamboo-turned stiles, blue-green paint, c. 1810, 44 inches, $835.
Copyright 2018 The Lawrence Journal-World. All rights reserved. This material may not be published, broadcast, rewritten or redistributed. We strive to uphold our values for every story published.