Houston — If the Houston Texans hope to justify spending their No. 1 pick on Mario Williams, he'll have to contribute more than he did Saturday night.
Williams assisted on one tackle in a quarter of play in Houston's 24-14 preseason win over the Kansas City Chiefs. Shuffled all around the defensive line, Williams looked tentative at times and was stood up on a couple of plays.
"I kind of got too excited and that made me get a little tired," Williams said. "But I was not nervous at all."
He finally registered his first stat late in the first quarter, when he joined second-round pick DeMeco Ryans to stop Larry Johnson for a 3-yard gain.
In his 11 plays, Williams mostly lined up against Chiefs left tackle Kyle Turley, who was playing in his first game since 2003 because of back problems. Turley was thrust into the starting lineup when 11-time Pro Bowler Willie Roaf unexpectedly retired the night before training camp.
"I have a lot to learn," Williams said. "I was moving up and down the ball. I'm used to just coming off the edge and it's a lot different here."
While Williams' debut was forgettable, another Houston rookie - sixth-round draft pick Wali Lundy - had a head-turning first outing.
With Domanick Davis out recovering from a lingering knee injury, the Texans started 10-year veteran Antowain Smith. Smith was ineffective early and the Texans turned to Lundy, who ran for 25 yards on his first carry and waltzed into the end zone untouched for Houston's first touchdown on a 3-yard run three plays later.
He finished with nine carries for 59 yards and had one reception for 9 yards for a performance coach Gary Kubiak said he was impressed with.
The former Virginia standout also returned one kickoff for 30 yards and a punt for 12 yards.
"I'm just happy I'm getting an opportunity to play in the NFL," Lundy said. "Anything I can do to help this team ... that's what I'm going to do."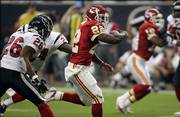 Though it was a preseason game, Houston has to be happy with its first look at the team that was revamped after last season's 2-14 finish. The Texans had 325 yards of offense while holding the Chiefs to 172.
"I like how hard we played," Kubiak said. "I thought we were still pretty sloppy at times."
Johnson had seven carries for 30 yards with no scores for Kansas City in its first game under coach Herm Edwards. Dee Brown added 23 yards on five carries and had a 12-yard touchdown run in the second quarter.
"Larry Johnson did a good job," Edwards said. "He was supposed to come out of the game, but he wanted to stay out there a couple of more times."
Trent Green was 5-of-6 for 34 yards before leaving after the first quarter. Canadian League Football star Casey Printers played the rest of the game and was 6-of-12 for 71 yards with no touchdowns and an interception.
"He was real jittery at times," Edwards said of Printers. "He kept his poise for the most part. He lost it a couple of times, but that's kind of the problem at times of having a young quarterback."
Houston's first team managed to move the ball well in its first game under Kubiak. David Carr was 3-for-5 for 23 yards and added 20 yards rushing in the first.
Carr's first two plays of the night went to offseason acquisition Eric Moulds. Carr found Moulds for an 11-yard gain on the right side of the field before hitting him for an 8-yard gain on the next play.
After being sacked more than 200 times in his career, Carr stayed on his feet Saturday - a prospect that excites the quarterback.
"We didn't have a sack in the game and it's been a while since we've done that here," Carr said. "Keeping the quarterback clean, we're going to be able to score points."
Backup quarterback Sage Rosenfels had a 5-yard touchdown run in the second quarter and Kris Brown kicked a 22-yard field goal in the third. Damien Rhodes added a score on a 4-yard run in the fourth. Notes: Texans TE Bennie Joppru, who had season-ending injuries the past three seasons, appeared in his first NFL game. He had a 9-yard reception in the fourth quarter. ... Michael Bennett, who was recently traded from the Saints, did not play on Saturday while he struggles with a sore hamstring. ... This is the second time the Texans have played the Chiefs in the preseason, losing 19-9 in their inaugural season. ... Houston's 24 points scored on Saturday was a preseason franchise record.
Copyright 2018 The Associated Press. All rights reserved. This material may not be published, broadcast, rewritten or redistributed. We strive to uphold our values for every story published.